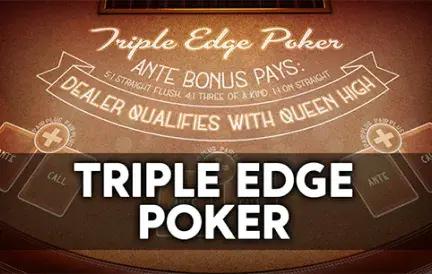 When it comes to enthralling twists on classic casino games, Triple Edge Poker truly stands out. This variant offers a fresh perspective on the traditional poker experience. And while numerous platforms host this game, its rendition on Red Dog Casino is particularly noteworthy.
Triple Edge Poker differentiates itself by incorporating unique rules and betting structures, guaranteeing an immersive experience for players. It's not just about having the best hand, but also about smart betting, knowing when to raise the stakes, and mastering the side bet options. The game's design and layout are intuitive, ensuring even newcomers can jump in without feeling overwhelmed.
Features that set Triple Edge Poker apart include:
Three-card Hands: This deviation from standard five-card hands ensures quick-paced gameplay.
Flexible Betting: Players can choose to play one, two, or all three boxes.
Intriguing Side Bets: The Pair Plus and 6 Card Bonus bets offer added excitement and winning opportunities.
Sleek Interface: Red Dog Casino's presentation of Triple Edge Poker boasts clear graphics and smooth animations.
Although it's categorized as video poker, Triple Edge Poker feels like a refreshing crossover between classic poker and table games. This hybrid nature brings out the best of both worlds, making each round unpredictable and engaging.
In conclusion, Triple Edge Poker is an absolute gem for those looking to step outside the confines of traditional poker games.
The unique set of rules, combined with strategic depth and the potential for high payouts, ensures that this game will keep players on the edge of their seats. For a top-notch experience of this game, look no further than Red Dog Casino. Embrace the triple edge challenge and see if fortune favors you!