Mission Guide
You discovered my extra special playground? Just about time! Let me show you around, pal – it's a whole new dimension of fun! Want a change of pace from your favorite slots? Take on the heroic challenges! Craving some novelty on each visit? Don't miss the daily adventures! Looking for extra bonus treats? They're all here in the Store! Literally every step you take in the parlor can be a rewarding game, and you decide when and how to approach it – all aboard!

Levels are the cornerstone of fun, pal! Each time you reach a new one, I'll fetch some fresh missions, resupply the Store with chunkier bonuses and unveil even more upcoming levels. 
See that bar in the top right? This is where you track progress - rake in enough points, and you'll get a level upgrade in no time! How many are there after 'New Friend'? We'll have to find that out together!
The best part about it? Levels and VIP ranks are totally separate - you get to keep all your VIP privileges regardless of level progress, and all those level-up goodies will just add up on top!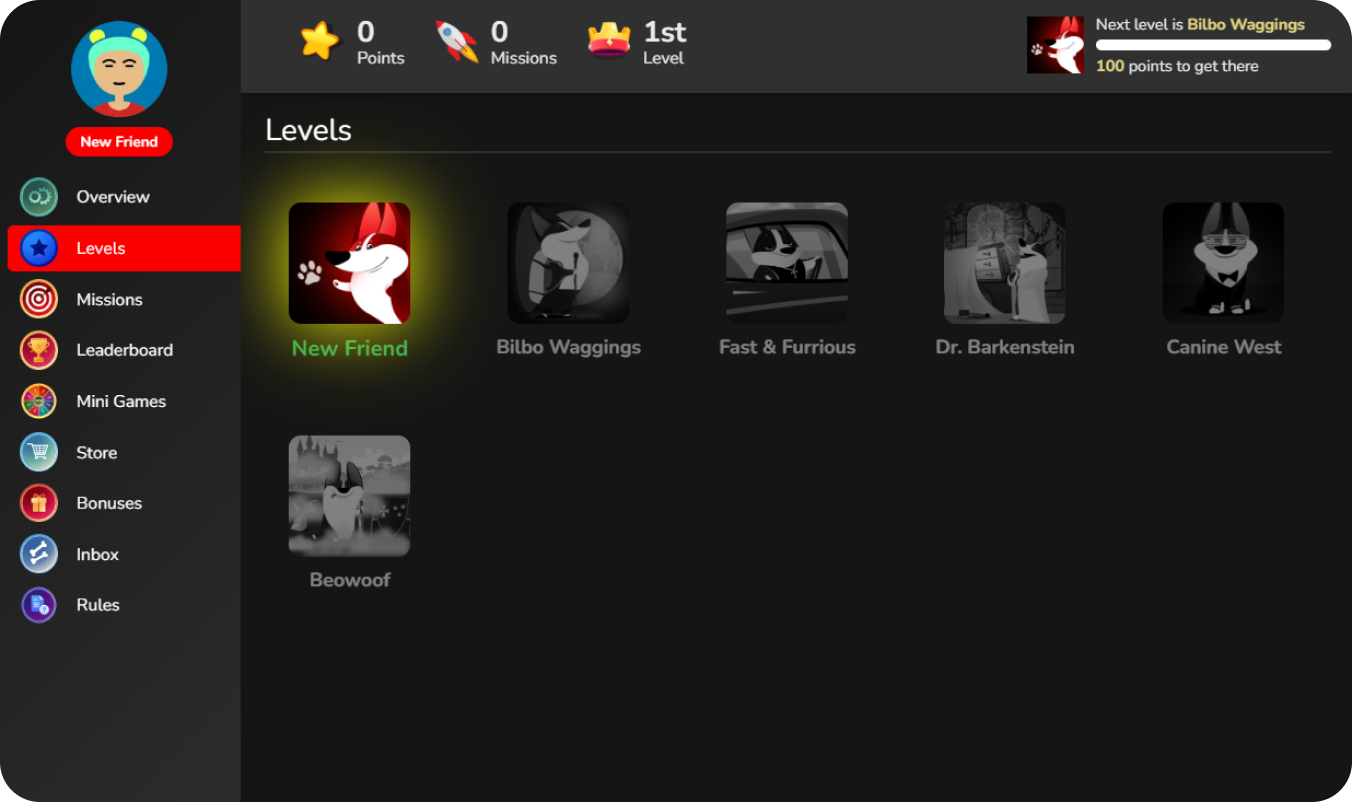 What happens when you put a game into a game? Red's Missions that double the fun, of course! If you want to cram that level progress bar quickly, missions are the way. When a mission is complete, you'll earn the points instantly. As you make it up the level ladder, I'll be there to sniff out and unlock even more thrilling challenges! 
For each mission, I came up with one or several tasks for each, from verifying account details to placing bets, logging in consistently, or reaching deposit goals. You can always track your progress using the tabs Overview, Available, Locked, and Completed in the Missions menu. On desktop, hover over a mission icon for details; on mobile, find them below each mission plate.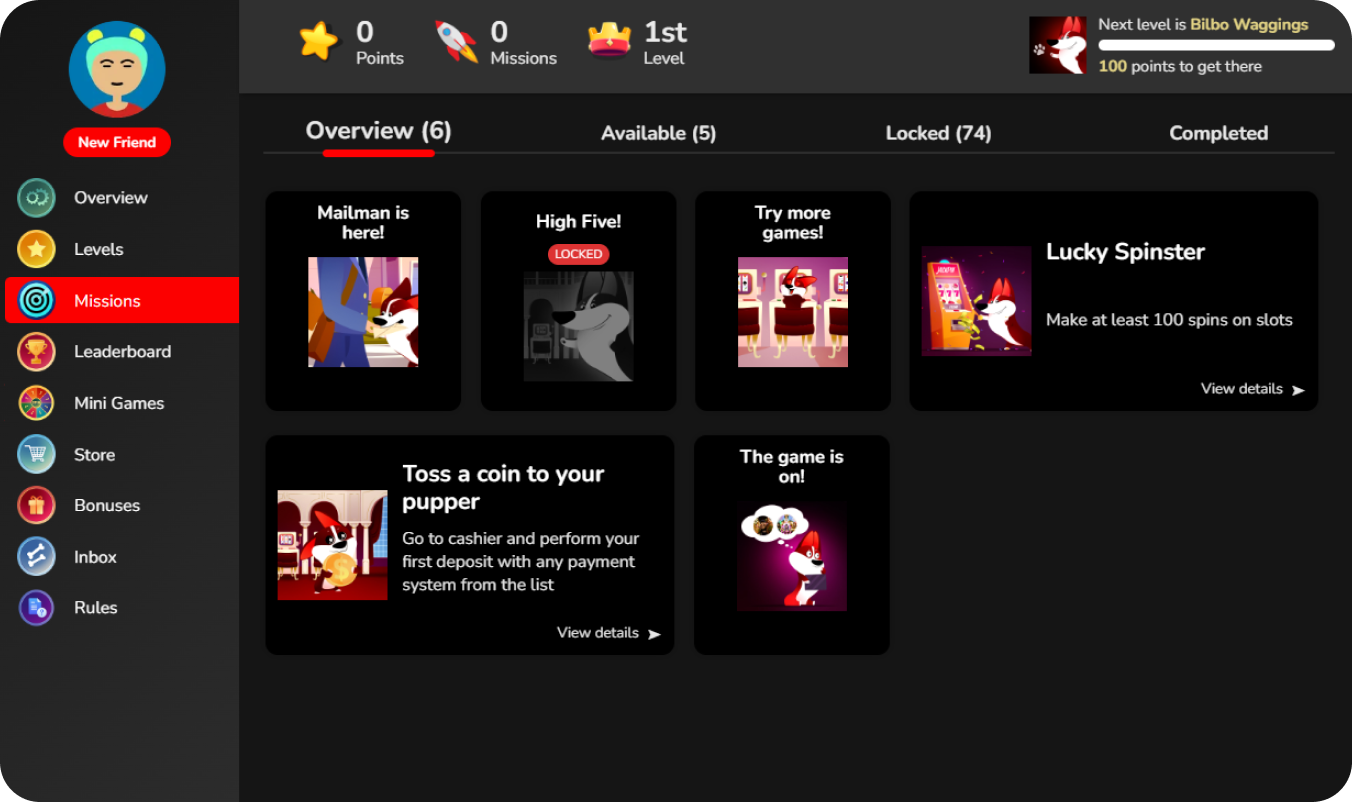 There's nothing like digging up a well-hidden treat, and this is where Badges come in! Just like missions, Badges bring your points, only you can't earn one deliberately - that's right, I keep the conditions secret! Your Badges collection will grace its own tab in the Missions menu, along with the completed task descriptions - viewing those can actually hint at how to earn more Badges!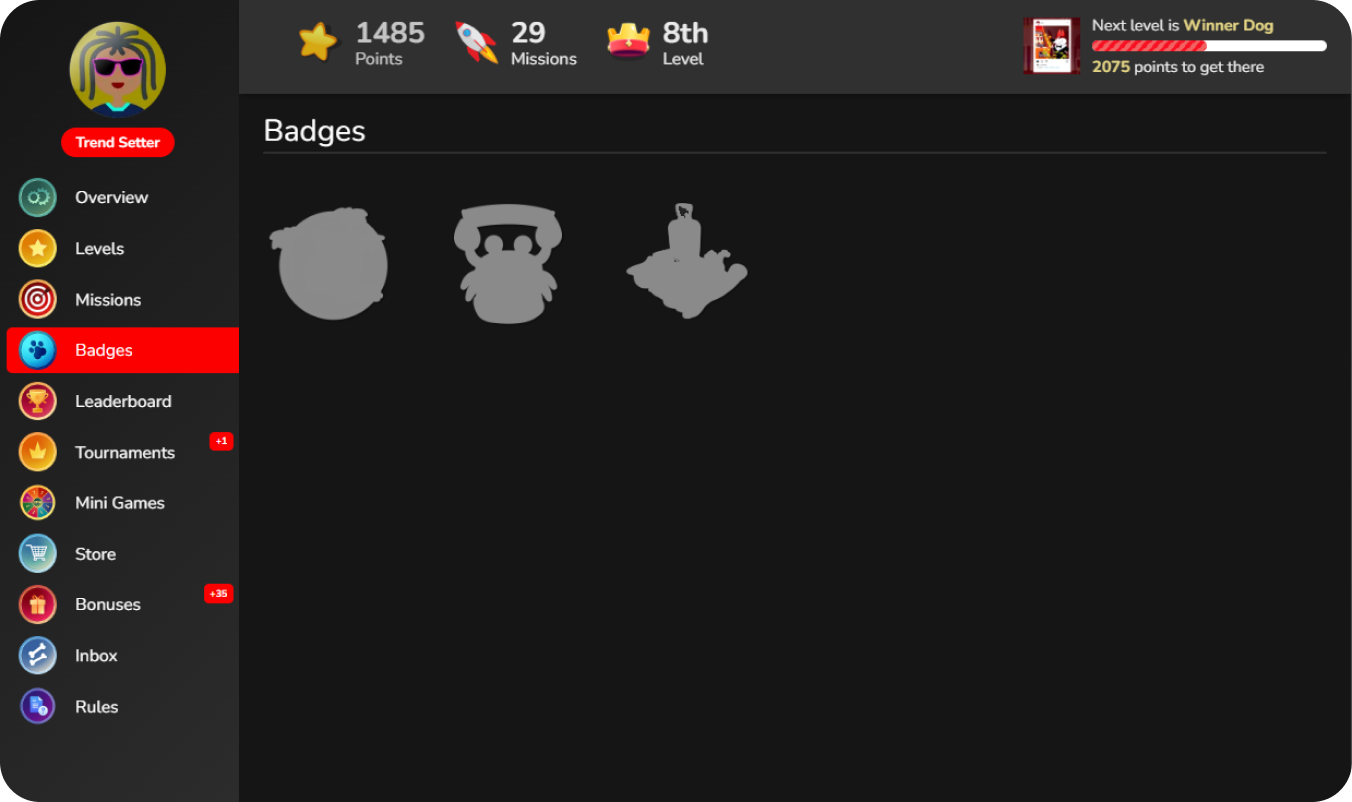 Up for some friendly competition? Just what I thought. Please welcome Leaderboards! Go head-to-head with other players and see who can earn the most points! 
I run daily, weekly, and monthly leaderboards. What's in it for you? Pile up the points to become one of the top three players and get a slice of the prize pool - the prizes are credited in points, too! 
Now, if two or more players happen to earn the same number of points, they'll both receive the same reward. Fair and square, right?

Here's the leaderboard schedule:
Daily: Resets at 00:00 UTC (EST+4) every day.
Weekly: Starts fresh every Monday at 00:00 UTC.
Monthly: Kicks off on the first day of each month at 00:00 UTC.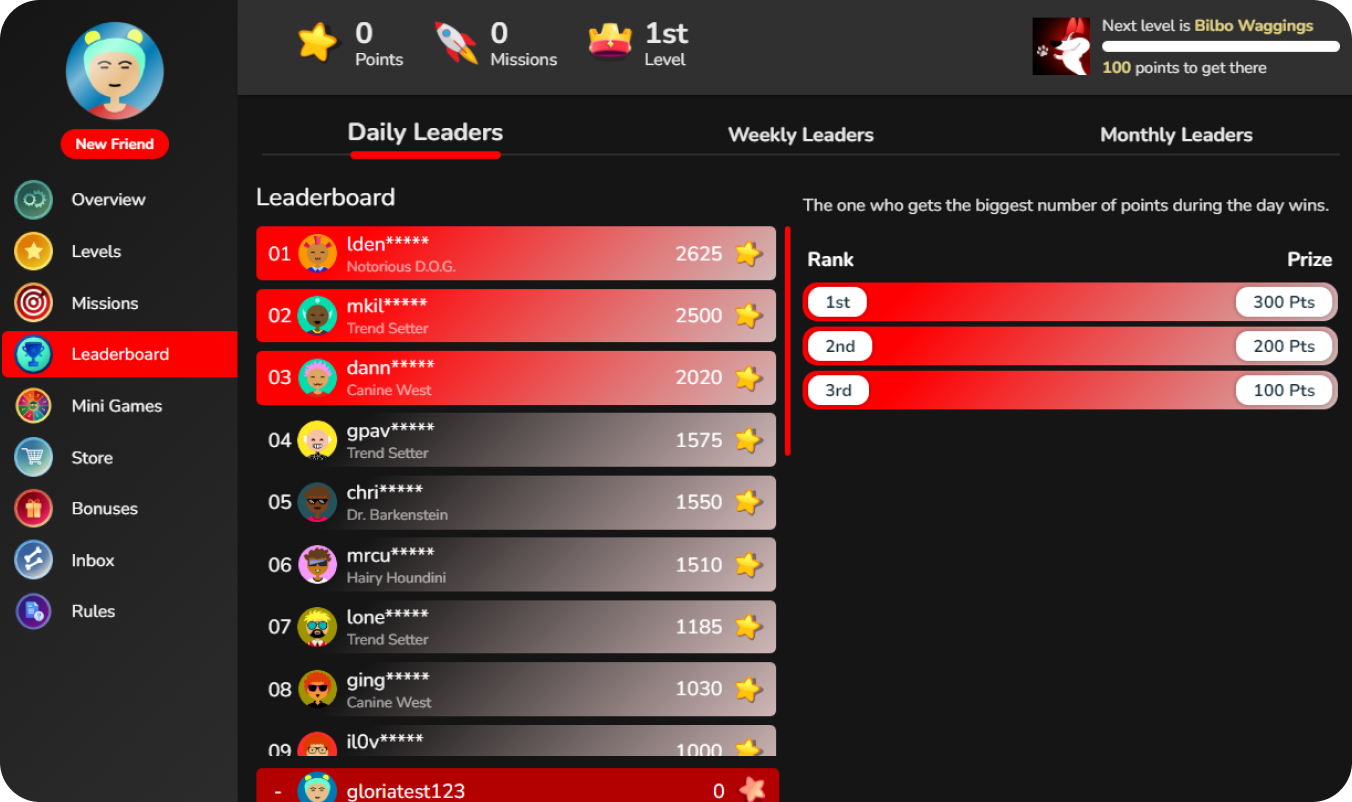 Ready to push that competitive edge even further? Check out my Tournaments! Each of these is designed to test your skills and reward your determination in a race for the top spot! 
The more you play, the higher your chances of climbing the leaderboard and claiming the top treat. Keep an eye on the real-time rankings to see where you stand among the contenders. 
To keep things fresh, I host time-limited challenges, slot battles, and ultimate casino game standoffs.
Check your mail often to never miss upcoming Tournaments and be ready when the showdown comes!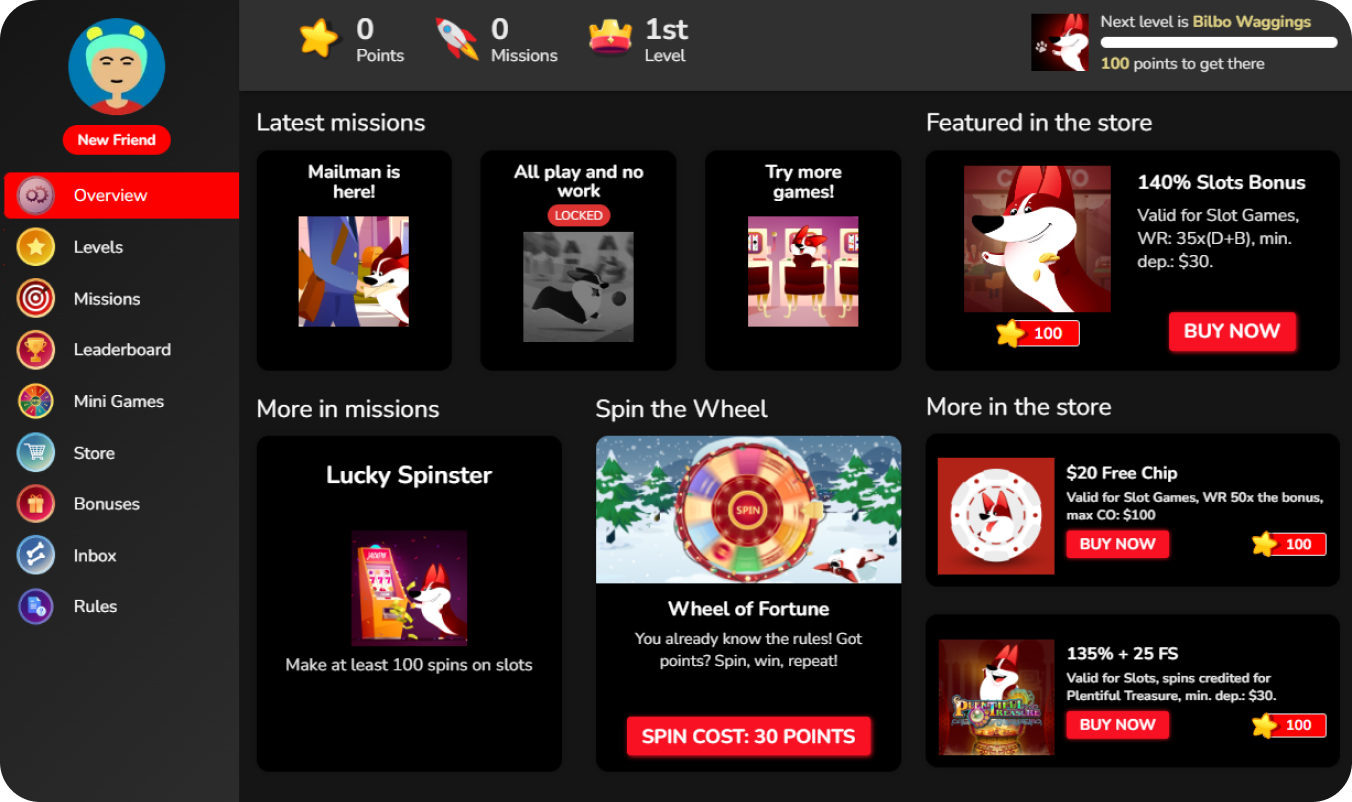 Points
First thing you've got to know is that Missions Points aren't not the same as comp points, so don't get them mixed up, pal! These Points are for everyone, whether you just joined or already a depositor, and they can't be converted into cash, so keep that in mind.
I made sure earning Points is easy. First, completing missions will reward you with some. You can also snag them by ranking in the top three spots on our leaderboards or tournaments. Feeling lucky? Try the Spin the Wheel mini-game for a chance to win even more. Of course, deposits will earn you points too, here's the chart:
10 points for a deposit of $30 and less
20 points for a deposit of $31 - $59.99
30 points for a deposit of $60 - $99.99
75 points for a deposit of $100 -$249.99
120 points for a deposit of $250 -$499.99
250 points for a deposit of $500+
You can check your available points at the top of the window, along with your current level and progress. Here's the awesome part: you can use Points to buy bonuses or mini game rounds! As you earn more, they're added to your available Points, and to the total point count which matters for levels and leaderboards. Find your current level stats in the Levels section to keep an eye on that total amount!

The Store is where you spend your hard-earned points on awesome bonuses! There are so many, in fact, that I sorted them into Deposit Bonuses, Free Chips, and Free Spins. 
Looking for something specific? You can do your bit of sorting as well, be it by price or name. On desktop, just hover your cursor over a bonus icon to get all the juicy details. For mobiles, I made this info visible at the bottom of each bonus plate. 
See something you like? Click that
"Buy Now" button
! Seal the deal with the
"Confirm" button
, and voila. You'll find that steaming hot bonus in the Bonuses section under the Pending Bonuses tab. Happy shopping, pal!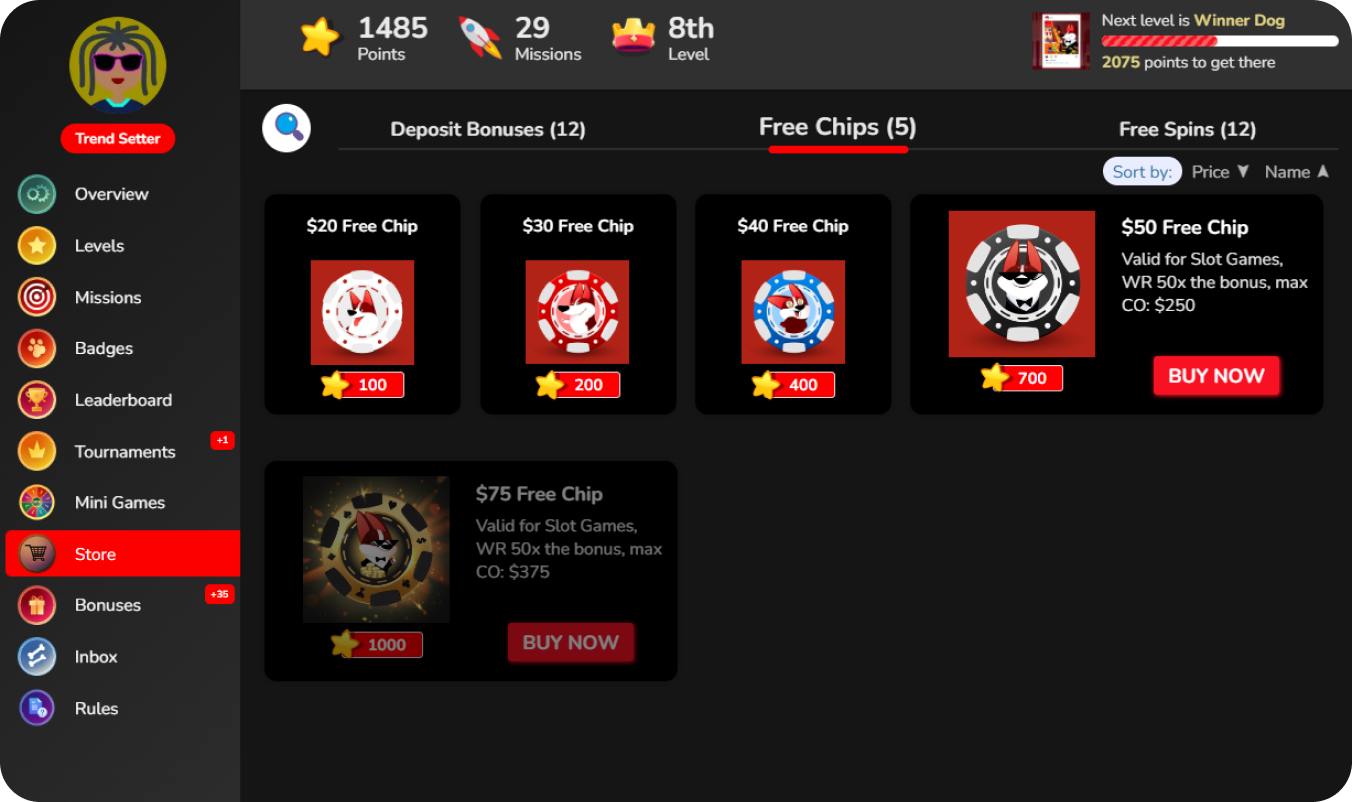 When you build up that stack of Points, give Spin the Wheel a go - it's the quickest way to lay one's paws on more points and spins. See that Question icon on the Wheel's background? You'll find a brief set of rules there. I prefer some soothing music in the background, but you can mute it by clicking on the speaker icon in the top left. 
While spinning, keep an eye on your spendable balance displayed below. The prize pool will change often, but you can expect cool stuff like Respins, Free Bonuses, and Points. The latter are added straight to your point balance! Scored a bonus? You'll find it in the Bonuses section under the Pending Bonuses tab. Good luck!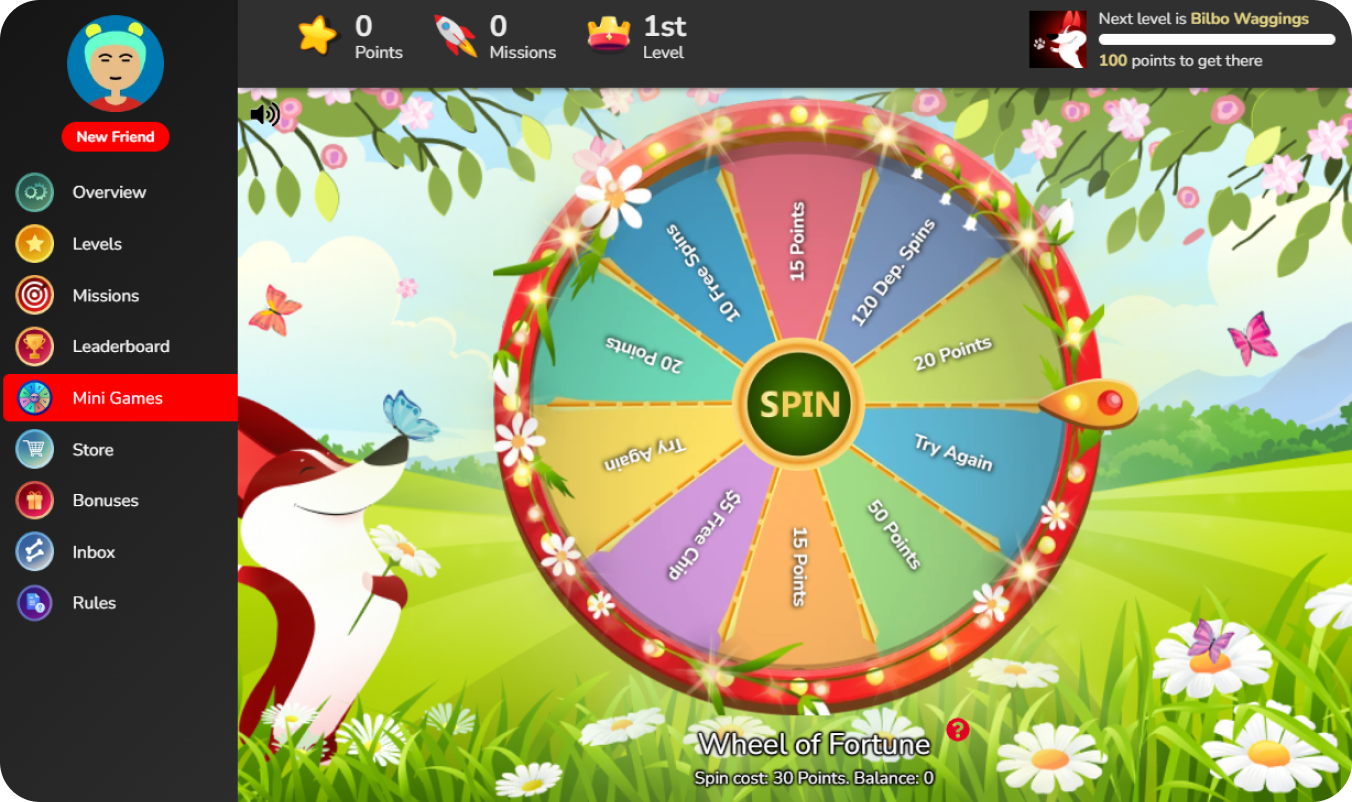 Once you're all set with the purchases, time to put them to a good use! From the Pending tab, click 'Redeem' and 'Confirm' on your bonus of choice, and watch the magic happen! You can double-check whether it worked in the Active Coupon tab of the Cashier. 
Remember, pal: bonuses are a one-way ticket - once you've redeemed one, it's locked and loaded. If that bonus worked well for you, why not grab it again from the Store! Forgot which bonus it was? See the Redeemed Bonuses tab to track it down. 
The Bonus won't do what it's supposed to? No worries, maybe you've got another active coupon! An error message with details will pop up, and your bonus will patiently wait in the Pending tab until you're ready to redeem it properly. 
One more thing: naturally, all the Store bonuses function under the Red Dog Casino General Bonus Terms. Take a moment to read those, and I'll stay here to guard your treats!