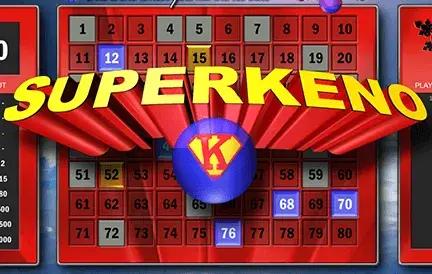 Venturing into the vast landscape of online casino games, it's a delight to come across gems that offer a blend of traditional charm and innovative twists. One such game is Super Keno by Saucify, a title that amplifies the classic keno experience with added features and opportunities.
Super Keno, at its core, retains the essence of the age-old numbers game. However, Saucify has given it a modern spin, enhancing its appeal for the digital age player. The design is sleek, the graphics are vibrant, and the user interface is brilliantly intuitive, ensuring that players, whether new or seasoned, can navigate with ease.
Red Dog Casino, with its impeccable reputation, is an ideal platform to experience Super Keno. The seamless integration of the game on this platform ensures that players are treated to a smooth gaming session, devoid of interruptions and full of excitement.
Key attractions of Super Keno include:
- Bonus Multipliers: Enhance your winnings with special multipliers.
- Flexible Gameplay: Customize your bets and choose your preferred numbers with ease.
- Live dealer option: Immerse yourself further with a live dealer, bringing a genuine casino ambiance right to your screen. Engage, interact, and enjoy the game in real-time with this fantastic feature.
To sum it up, Super Keno by Saucify is a testament to how classic games can be revitalized for the modern player. The added features not only boost the gameplay but also increase the stakes, making every selection of numbers a thrilling adventure. The live dealer option, in particular, is a standout, providing players with an authentic and engaging gaming environment. If keno is your game of choice, Super Keno promises an experience that's a notch above the rest.