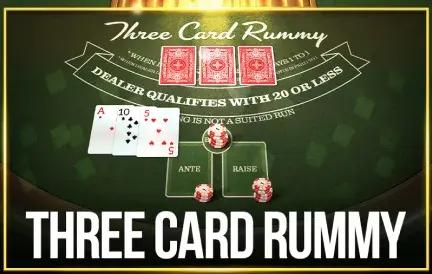 Stepping into the world of card games, Three Card Rummy emerges as an enticing blend of strategy and chance, brought to the online casino arena by none other than Nucleus. Known for their cutting-edge graphics and engaging gameplay, Nucleus once again doesn't disappoint with this offering.
Three Card Rummy stands out due to its unique scoring system. Unlike other card games where the aim is to amass points, here, the objective is quite the opposite. Players strive for the lowest score possible, making every round a thrilling endeavor to minimize points.
What makes Three Card Rummy a must-play?
- Innovative Gameplay: The reverse scoring mechanism challenges players to think differently, adapting their strategies for low points.
- Stellar Graphics: As expected from Nucleus, the game visuals are sharp, smooth, and designed to enhance player experience.
- Flexibility: Suitable for both beginners and seasoned pros, Three Card Rummy offers a learning curve that's both challenging and rewarding.
Key Highlights:
1. Bonus Bets: Players have the option to place bonus bets, increasing their chances of hitting bigger wins.
2. Quick Play Rounds: Ideal for those short on time but high on enthusiasm.
3. Live Dealer Experience: Platforms like Red Dog Casino elevate the experience by offering Three Card Rummy with a live dealer. This real-time interaction brings an added layer of excitement, simulating a true casino atmosphere.
In essence, Three Card Rummy is not just another card game. It's a journey of strategy, anticipation, and thrill. The nuances of aiming for the lowest score, combined with the potential for bonus wins, ensure players are always on the edge of their seats. For those seeking a fresh card game challenge, Three Card Rummy by Nucleus is certainly worth a deal.