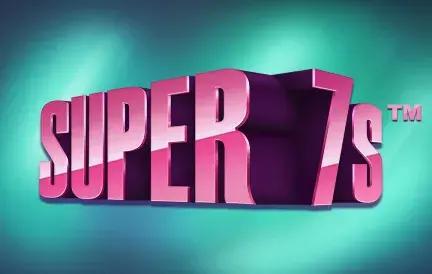 Steeped in classic casino vibes, the "Super 7s" slot machine is a delightful nod to vintage gaming days. Available exclusively at Red Dog Casino, Super 7s merges simplicity with the thrill of modern online slot games, presenting a fresh take on an old favorite.
Super 7s boasts a clean design with symbols reminiscent of traditional slot machines. Cherries, bells, and bars grace the reels, but it's the coveted '7' that players will be most eager to see. With vibrant colors and an uncluttered layout, this game caters to both the nostalgic and the contemporary gamer.
Distinguishing features of Super 7s include:
High-value 7s: Landing multiple 7 symbols can yield significant returns, living up to the game's namesake.
Scatter Pays: The star scatter symbol pays in any position, offering additional ways to win.
User-friendly Interface: Effortless to navigate, making it suitable for both novices and seasoned slot enthusiasts.
Crisp Graphics: While rooted in a classic theme, the graphics are sharp and modern, ensuring a visually pleasing experience.
The slot machine's charm stems from its simplicity. Without overwhelming players with intricate bonus rounds or convoluted features, Super 7s offers straightforward, unadulterated gameplay. It's a refreshing reminder of what made slot games popular in the first place.
In conclusion, Super 7s is a masterful blend of the old and the new. Its timeless appeal, combined with the reliability and smoothness of modern online gaming, makes it a standout title at Red Dog Casino. If you're looking to enjoy the essence of traditional slot gaming with the perks of today's technology, Super 7s is a game that should not be missed. So, take a spin and let those iconic 7s bring you the fortune you seek!