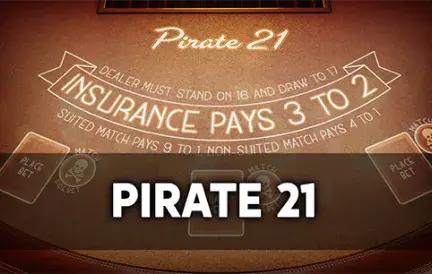 Ahoy there, casino aficionados! If you're scouting for a fresh twist on the beloved card game of 21, then set your sails towards Pirate 21 by Nucleus. This game merges the thrill of blackjack with the adventurous world of pirates, offering players a gaming experience that is both familiar and refreshingly new.
Pirate 21 sets itself apart with a unique pirate-themed design that immediately captures attention. The visuals are crisp, detailed, and immerse players into the world of buccaneers, treasure maps, and high-seas adventure. But it's not just about the looks; the gameplay of Pirate 21 is as captivating as its aesthetics.
Playing at Red Dog Casino, one can experience the full charm of Pirate 21. The platform complements the game with smooth navigation and quick load times. It's evident that Nucleus has put meticulous attention to detail not just in design but also in functionality.
A few highlights of the game include:
Multiple Bet Options: Players can make side bets, doubling the excitement.
Match the Dealer: A side game that provides extra ways to win.
Live dealer experience: Playing with a live dealer elevates the game's authenticity, bringing the casino right into your living space. The interaction and real-time decision-making add layers of excitement to Pirate 21.
In summation, Pirate 21 by Nucleus is not just another card game; it's an adventurous journey. The seamless integration of pirate elements with classic 21 rules is nothing short of genius. And when you opt for the live dealer option, it's like being on a pirate ship's deck, making high-stakes decisions amidst the thrilling atmosphere. For those looking for a fresh take on a traditional game, Pirate 21 is a treasure worth discovering.