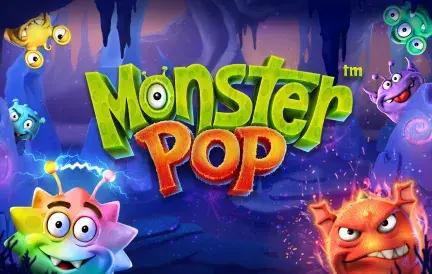 If you're on the hunt for a thrilling and visually captivating slot machine experience, look no further than Monster Pop at Red Dog Casino. This innovative slot game combines adorable monsters with explosive gameplay, creating an unforgettable gaming adventure.
Monster Pop is a 5x5 grid slot game that stands out from the crowd. The first thing that caught my eye was the game's vibrant and charming graphics. The adorable monsters that populate the reels are endearing and add a touch of whimsy to the overall experience. The attention to detail in their design is truly remarkable, making Monster Pop a visual treat.
One of the standout features of this slot machine is the "Monster Cloner" mechanic. This feature adds excitement by allowing adjacent monsters to merge and create larger, more valuable symbols, increasing your chances of big wins. Watching the monsters combine and explode is not only visually satisfying but also incredibly rewarding.
Monster Pop offers a wide range of betting options to cater to all types of players, from casual spinners to high rollers. The game's RTP (Return to Player) rate is competitive, providing a fair chance for players to win.
What sets Monster Pop apart from other slot machines is its dynamic gameplay. With every spin, there's a sense of anticipation as you hope for the Monster Cloner to kick in and create massive clusters of monsters. It's this excitement that keeps you coming back for more.
In conclusion, Monster Pop is an engaging and entertaining slot machine that deserves a spin or two at Red Dog Casino. With its delightful monsters, innovative gameplay, and the potential for impressive wins, it's a game that should be on every casino enthusiast's radar. Give Monster Pop a try, and you might just find yourself immersed in a world of adorable monsters and exciting payouts.