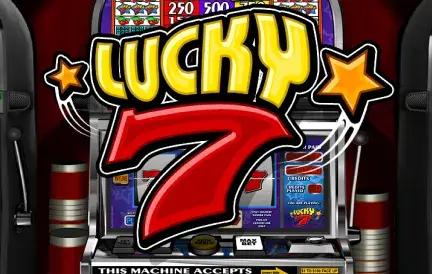 Pampered into dizziness by the ever-growing diversity of online slot games, even the most novelty-hungry players sometimes crave something a little less fancy on their screen. Lucky Seven by Betsoft Gaming is exactly the title for the purpose: in addition to offering veteran gamers a plain but nourishing diet, it can help newcomers acquire a taste for slots without the risk of feeling overwhelmed. The ingredients come in the following proportions: 
RTP rate of 97%; 
Top award of 300 Coins; 
1 payline on a 1x3 playing board; 
Medium volatility (balanced win frequency and payouts); 
Instant Buy, Free Games, and Mystery Chests bonus features. 
What else to expect from the game about capturing the essence of vintage slots? Read more of this Lucky Seven slot review to find out! 
Style & Visuals 
As expected, Betsoft doesn't take any liberties with the game's style and faithfully recreates what slots in the 90s looked like. Nothing breaks the immersion: the static parts remain such at all times, and if something is intended for movement, like the reels or the seven-segment display in the bottom left, it does so in a rough but endearing vintage fashion. 
Basic Rules 
Being the ideal slot machine for beginners, Lucky Seven aims to offer the original automated gambling experience of the analog era. Back in the day, the rules were kept simple - machines had clockwork too complex and expensive for experiments, and the basic 3-reel action felt fresh for an average player.  
Insert coins, hear them join their kin in the slot's steel belly with a satisfying clang, and spin away - in Lucky Seven, Betsoft Gaming changes none of these classic steps. All you've got to know is that the bet ranges from 1 to 3 Coins, and the main prize equals a whopping 300 Coins - place your bet and let the gods of random numbers take it from there! Speaking of which, the game's RTP of 97% is some of the best we've seen recently - this, coupled with the game's balanced volatility, means you can expect a steady stream of wins in moderate increments without risking your bankroll. 
Bonus Features 
The primary bonus system of the slot game is based in its progressively increasing payouts - the paytable below lets you see how quickly things can escalate in your favor. Note that these figures are the highest possible prizes that can be won by betting 3 Coins: 
Any 1 Cherry: 0.36 Coins; 
Any 3 Bar Symbols: 0.54 Coins; 
Any 2 Cherries: 1.8 Coins; 
3 Single Bar Symbols: 3.6 Coins; 
3 Double Bar Symbols: 9 Coins; 
3Triple Bar Symbols: 18 Coins; 
3 Cherries: 27 Coins; 
3 Lucky 7's: 45 Coins; 
3 Red Sevens: 300 Coins.
FAQ 
How much do I need to deposit to play Lucky Seven for real money? 
Our minimum deposit limits allow for maximum inclusiveness and financial flexibility - with $10 to $30 deposited with Neosurf r credit cards, respectively, you get to play every game we have and even claim the Welcome gift. 
Is there a way to play Lucky Seven online slot for free? 
Betsoft's official website has a dedicated page for each game they've released. On this page, you'll find additional info about Lucky Seven and the demo version that can be enjoyed for fun online. 
Can I play Lucky Seven slots on the go? 
The developer is a renowned expert in mobile entertainment - rest assured that Lucky Seven will run on your device without a stumble. 
Conclusion 
As we've indicated in the review's intro, no matter what level of gambling experience you have, playing Lucky Seven at Red Dog Casino may be the best decision you'll make today - owing to its simplicity, the game is as relaxing as it is rewarding.