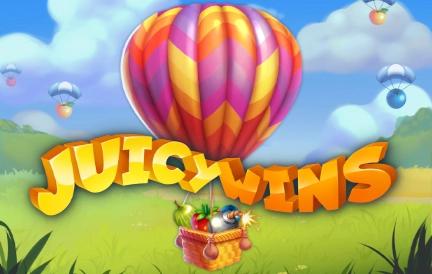 You've landed in the vibrant and flavorful world of Juicy Wins by DiceLab, a slot game as refreshing as a summer fruit salad! In this delightful game, every spin is a chance to plunge into a juicy adventure brimming with colorful fruits and berries. The game's theme is a delightful blend of classic slot symbols and modern, crisp graphics that will entice your senses and keep you coming back for more. As you immerse yourself in Juicy Wins, you'll find that each symbol on the reels is a burst of fun waiting to happen. It's like a sunny day in the online slots realm, where each spin brings a fresh wave of excitement. Dive into this fruity adventure, and let the juicy wins roll in! But before you do, let us quickly guide you through our Juicy Wins slot review! 
Theme & Visual Components 
The game takes players on a delightful journey through a world of succulent fruits and berries, each rendered with remarkable detail and realism. The animations are so lifelike that you can almost see the juice dripping from a freshly sliced blueberry or hear the crunch of biting into a crisp gooseberry. This attention to detail extends across all game elements, from the spinning reels to the playful pop of the berries.
The color palette of Juicy Wins slots is another aspect where the game truly shines. The designers have skillfully used a spectrum of vibrant and vivid colors that capture the essence of a bountiful fruit basket. The bright reds of strawberries, the deep purples of blues of blueberry, and the sunny yellows of peaches come together in a harmonious, eye-catching, and inviting mix. This kaleidoscope of colors adds to the game's appeal and also aids in keeping the player's attention focused on the game, enhancing the overall experience. 
Perhaps Juicy Wins's most tranquil and unique feature is its background, a dynamic sky with animated clouds gently drifting across the hot air balloon basket stuffed with fruits. This serene backdrop creates a calming effect, contrasting beautifully with the lively action on the reels. The moving clouds add depth and movement to the game, making it even more immersive. 
How Does It Work?  
Juicy Wins elevates the thrill of slot gaming with its unique 7x6 grid format. This slot game is a delightful playground for novice and veteran players alike, where the rules are straightforward, yet the opportunities for excitement are endless. As you engage with this vibrant slot, you'll find it's a canvas of possibilities, rich with special features that keep the gameplay dynamic and rewarding. 
These features are not just add-ons but integral parts of the game, woven seamlessly into the gameplay to keep the action exhilarating. They are the keys to unlocking the game's full potential, adding layers of strategy and surprise to every round. 
Increasing Multiplier feature: Every spin provides a multiplier that covers a random cell. The multiplier is applied to winning only if it is positioned over a symbol that contributes to forming a win. The default multiplier value is 1, which increases by 1 every time it's applied to a winning combo, reaching up to X10! Once the X10 multiplier is applied to a winning combo, its value is reset to 1. Lastly, its progress is saved per bet. 
Yummy Free Spins feature: Landing 3 or more Scatter bombs triggers the feature and gives 15 Free Spins. Before the round starts, a random multiplier of X2-X10 is chosen to appear in a random position during every Free Spin game! On top of that, the multiplier may randomly land as a giant 2X2 block, making it possible to multiply several cluster wins! 
Cluster Wins: The symbols form a cluster when their sides are horizontally or vertically adjacent to the same symbol — five or more adjacent symbols on a cluster award a win. The winning clusters explode after the wins are calculated, and the symbols collapse. 
FAQ 
Can I play Juicy Wins without paying real money? 
Absolutely! You have the opportunity to play Juicy Wins online slot for free, immersing yourself in its colorful universe via the demo version. This mode is perfect for enjoying the game's lively mechanics and captivating design purely for fun, without any financial obligations. And when you're ready to take it up a notch, you can smoothly transition to playing Juicy Wins for real money, enhancing the thrill and excitement of your gaming adventure. 
What company developed Juicy Wins? 
This heart-pumping slot machine is created by the DiceLab Studio. 
Can I access Juicy Wins from my smartphone? 
Certainly! Enjoy the excitement of Juicy Wins at Red Dog Casino directly from your mobile device. Our casino's mobile-optimized platform ensures that it operates seamlessly, offering a delightful gaming experience regardless of your whereabouts.
Conclusion 
In summary, Juicy Wins offers a refreshing and entertaining experience for online casino players of any level. Its striking visual design, featuring vibrant and realistic fruit themes, captivates the eyes, making every session a visual delight. The game's unique 7x6 structure, enriched with special features and symbols, elevates the gameplay beyond the ordinary, providing layers of excitement and engagement. It's a perfect blend of simplicity and thrill, making it an ideal choice for those seeking a tasty and entertaining online slot adventure.