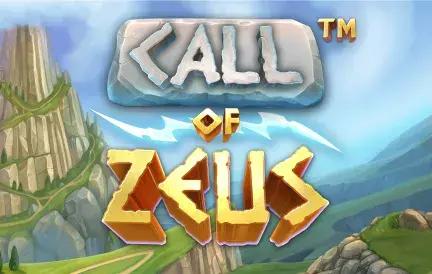 Prepare for a divine adventure in the slot game world as we journey into the mythological realm of Call of Zeus by Nucleus Gaming. This game promises an exhilarating experience filled with ancient gods, captivating features, and the potential for enormous wins. We hope this comprehensive Call of Zeus slot review will help your gaming experience. Let's take a closer look at the game's theme, design, and gameplay features and offer tips to help you conquer this epic quest, whether you play Call of Zeus online slot for free or ready to spend some cash.
Theme & Design
Step into the realm of Call of Zeus by Nucleus Gaming, where you'll be immediately transported to the mythic world of ancient Greece. Powerful Zeus stands and watches how you spin the reels, holding his thunderbolt in hand. The backdrop showcases Mount Olympus hidden in clouds and a path that spreads from beneath the mountain to the top. Divine, calm music filled with the sound of peacefully ringing bells ensures you would feel amongst the gods of Olympus. The graphics are pleasant, immersing you in the world of Greek divines, while animations breathe life into this mythical design. Fonts are stylized in ancient writing, and shiny gold columns hold the reels. Call of Zeus slots takes great care in its visual presentation, ensuring every spin is a captivating experience.
Gameplay Features
With 5 reels and 5 paylines, Call of Zeus slots offers the player an array of features designed to elevate the gameplay experience and take the jackpot of 1.700x your bet.
Wilds Multiplier. The Wild symbol, represented by Zeus holding a thunderbolt, plays a huge role in Call of Zeus. It can substitute for any symbol, increasing your chances of landing an epic win. By appearing on a single line, those symbols will multiply each other. 
Stacked Reel Respin. If you land 2 identical symbols on reels 1 and 2 with no winning paylines, they will be frozen, while the rest of the reels will spin again, rewarding you with a free spin. 
Multiplier Wheel. The Multiplier wheel feature in Call of Zeus slots is a great addition to the above ones. To trigger the mighty multiplier wheel, all the reel positions must have the symbols lining up. When the multiplier appears, it will multiply your initial bet from 2x to an unbelievable 10x.
Winning the Game
To maximize your chances of a triumphant win in Call of Zeus slots, consider the following tips.
Wager Wisely: Commence your epic adventure with a well-thought-out bet that aligns with your bankroll. A strategic betting approach ensures extended gameplay and more opportunities to secure legendary wins. The minimum bet starts from 0.1, and the maximum is 200, giving you space for mindful betting.
Practice in Demo Mode: If you're new to Call of Zeus slots or online slots in general, don't hesitate to explore the demo version first. It's an excellent way to familiarize yourself with the game mechanics without risking real money. This practice mode offers a safe environment for beginners to get a grasp of the gameplay.
FAQ
Where can I play Call of Zeus?
You can play Call of Zeus at Red Dog Casino to start your unforgettable and mythical adventure. You have the option to play it in demo mode for free, allowing you to practice your skills and then play Call of Zeus for real money to chase godlike riches.
Which symbol offers the highest payout in Call of Zeus? 
The symbol of Zeus himself takes the throne as the highest-paying symbol in Call of Zeus slots, giving you 50x multiplier. Aligning a combination of almighty god icons can lead to divine rewards.
Is Call of Zeus accessible on mobile devices? 
Indeed, Call of Zeus by Nucleus Gaming is optimized for mobile play, allowing you to bask in its divine glory on your smartphone or tablet. Whether at home or on the move, you can spin some reels in Call of Zeus by Nucleus Gaming whenever you want.
Conclusion
In summary, Call of Zeus by Nucleus Gaming is a slot machine that offers a captivating and visually enchanting gaming experience. Its portrayal of Greek mythology, complete with Greek divinity and mythical symbols, immerses the player in a world of legend. 
As you embark on your epic quest and play Call of Zeus for real money, keep in mind to wage wisely to extend your divine journey, focus on the features, and use the demo or mobile version to become well-acquainted with the game's mechanics. Call of Zeus slot game offers an escape into the realm of online slots, where a little luck might lead you to epic victory with every spin. It's time to start your godlike adventure for fun, victory, and glory - answer the call and discover the truly Olympic treasures this slot machine offers.