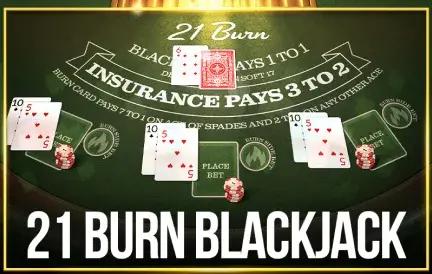 In the expansive world of online card games, 21 Burn Black Jack by Nucleus stands out as a fiery and thrilling variation of the classic Blackjack. Exclusive to Red Dog Casino, this game infuses traditional gameplay with an intriguing twist, ensuring players remain captivated from start to finish.
Nucleus, with its reputation for innovative game designs, does not disappoint in this offering. 21 Burn Black Jack allows players the option to "burn" or replace their second card, introducing a dynamic element of strategy and unpredictability to each hand.
Highlights of 21 Burn Black Jack include:
The unique burn feature, offering players a chance to swap out their second card.
A real-time live dealer experience, adding depth and authenticity to the online game.
Sleek graphics and fluid animations, ensuring a visually appealing gameplay experience.
The burn feature in 21 Burn Black Jack is a game-changer. It presents players with an exciting dilemma: stick with the current hand or burn for potential better odds? This strategic depth makes every round unpredictable and engaging. Complementing this is the live dealer feature which amplifies the realism of the game. Engaging with the dealer, feeling the suspense of live decisions, and the camaraderie of real-time interaction brings players closer to a genuine casino experience.
In a nutshell, 21 Burn Black Jack by Nucleus at Red Dog Casino is a must-try for Blackjack aficionados and newcomers alike. It redefines the boundaries of traditional Blackjack, making every hand an adventure. With its perfect blend of classic rules and innovative twists, coupled with the excitement of a live dealer, 21 Burn Black Jack is set to become a favorite in the online casino world. Ante up, burn if you dare, and immerse yourself in this blazingly entertaining game!