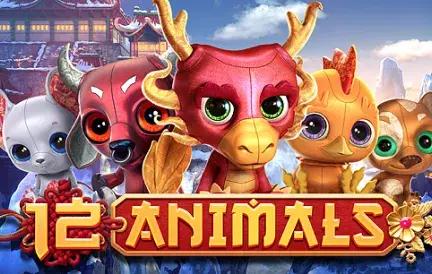 Dive into the mystical realm of the zodiac with 12 Animals, a captivating slot machine now shining in the constellation of games at Red Dog Casino. This enchanting game takes inspiration from the ancient Chinese zodiac, bringing together the symbolic animals that represent different years in a cycle of fortune and fate.
The aesthetic of 12 Animals is both serene and vibrant. The reels are adorned with beautifully crafted symbols, each depicting one of the zodiac animals in exquisite detail. From the fierce dragon to the elegant rabbit, every spin is a visual treat.
Celestial Features to Discover:
Zodiac Wheel Wilds: Rotate your luck with these symbols, substituting others to craft winning alignments.
Lunar Free Spins: Secure a trio or more of moon symbols and bask in a shower of free spins reflecting the lunar cycle.
Golden Zodiac Bonus Round: Embrace the golden zodiac signs, and the universe might just align in your favor with rich rewards.
Soft traditional melodies, intertwined with gentle chimes, set a calming backdrop to the gameplay. The harmonious sounds serve to deepen the immersion, making each spin feel like a step into a tranquil celestial realm.
Red Dog Casino's decision to incorporate 12 Animals into their slot machine portfolio showcases their dedication to offering culturally rich and visually appealing experiences to players. With its fusion of ancient traditions and modern gaming mechanics, 12 Animals presents a unique gaming escapade.
In conclusion, 12 Animals stands out as a harmonious blend of culture, artistry, and chance. For those seeking a serene and symbolic gaming journey, this slot machine at Red Dog Casino beckons with promises of luck and lore. Align with the stars and let the zodiac guide your spins!