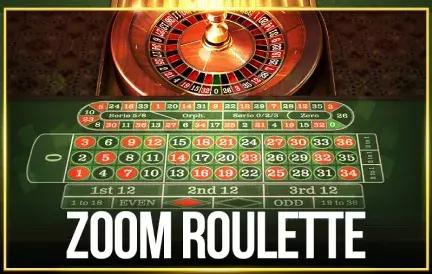 The roulette wheel has been a symbol of chance, luck, and opulence for centuries. However, Betsoft's Zoom Roulette isn't just another addition to the long line of roulette games; it's a modern twist on a timeless classic.
From the moment you launch the game, it's evident that Zoom Roulette is in a league of its own. The graphics are nothing short of spectacular, with crisp and clear visuals that add depth to the gaming experience. But, the pièce de résistance is the game's unique zoom feature, which brings players closer to the action than ever before.
Key highlights of Zoom Roulette:
Stunning Visuals: Crystal-clear graphics that capture every detail of the wheel.
Innovative Zoom Feature: Enhances gameplay by focusing on the ball, offering a suspense-filled view of where it might land.
Fluid Gameplay: Seamless animations and transitions guarantee an uninterrupted gaming session.
Red Dog Casino, with its reputation for housing some of the finest games, is the perfect home for Zoom Roulette. The platform's secure environment, combined with its user-friendly interface, ensures players get the best out of this Betsoft masterpiece. Plus, if you're new to roulette or need to brush up on your strategies, Red Dog Casino offers resources to help you get started.
To sum it up, Zoom Roulette is not just a game; it's an experience. Betsoft has outdone itself, merging traditional roulette elements with futuristic features. For players seeking the thrill of roulette with an added touch of modernity, Zoom Roulette is the answer.
Embark on a new gaming adventure today and witness the mesmerizing world of Zoom Roulette, exclusively at Red Dog Casino. The future of roulette is here, and it's zoomed in on excitement!