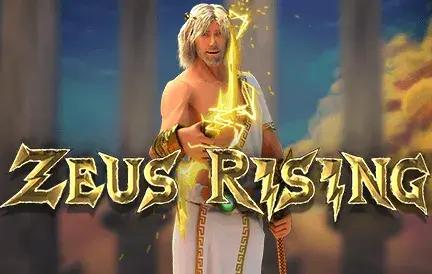 Venture into the realm of Greek mythology with Zeus Rising, a compelling game offered at Red Dog Casino. As a beacon of divine power and mystique, this slot machine invites players to ascend Mount Olympus and witness the might of the gods.
Zeus Rising, with its grandeur and splendor, perfectly encapsulates the ambiance of ancient Greece. The backdrop of the game boasts of celestial skies and towering pillars, while the reels are graced by iconic figures from Greek mythology. The animations are fluid, and each spin feels like a step closer to Zeus's throne.
Distinctive features of Zeus Rising:
Mythological Symbols: Encounter gods, goddesses, and legendary creatures of lore.
Thunderbolt Bonus: Zeus's iconic weapon triggers electrifying bonus rounds.
Heavenly Soundtrack: An epic score that resonates with the theme of divine power.
Intuitive Gameplay: Easy to navigate, ensuring even novices feel like Greek heroes.
The anticipation built by Zeus Rising is comparable to waiting for Zeus's next thunderbolt. There's an omnipresent air of unpredictability, with potential rewards worthy of the gods themselves. The blend of historical lore and contemporary slot gaming mechanics makes it a standout title in the vast gaming library.
Red Dog Casino, renowned for its diverse gaming titles, has truly outdone itself with Zeus Rising. This slot machine isn't just another game; it's an odyssey into a time where gods ruled, and myths were realities.
To wrap up, Zeus Rising beckons players to challenge their fate under the watchful eyes of the gods. With its captivating theme, thrilling bonus features, and the allure of ancient Greece, this slot is bound to ascend the favorites list of many players. So, prepare to embark on a mythical journey and let Zeus guide your path to glorious wins!