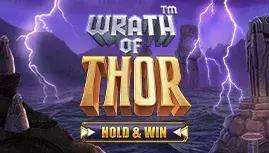 Wrath of Thor at Red Dog Casino is an electrifying online slot game developed by Nucleus that plunges you into the heart of Norse mythology. With 5 reels, 3 rows, and a formidable 243 paylines, this slot promises an unforgettable adventure filled with thunderous wins and divine power.
In the realm of Asgard, where gods and giants clash, Wrath of Thor introduces you to a world of ancient legends and mythical treasures. As you spin the reels, you'll encounter wild symbols that can substitute for other symbols to create winning combinations. Look for stacked mystery symbols that can unveil secrets and untold riches.
But that's not all. Wrath of Thor by Nucleus offers the Nudging Multiplier Wild Reel feature, where Thor himself may intervene to boost your wins. The Hold and Win Bonus feature also provides a chance to secure extraordinary rewards.
Prepare to channel the might of Thor and immerse yourself in a mythological adventure where thunder and lightning herald extraordinary fortunes! Find out how to please the Viking Gods in this Wrath of Thor slot review.
The Realm of Asgard
Wrath of Thor masterfully weaves the rich tapestry of Norse mythology into its art and design, immersing players in the mystical world of the ancient gods. The backdrop, a breathtaking Scandinavian landscape, sets the stage with rugged mountains, towering evergreens, and cascading waterfalls. It's a visual spectacle that transports you to the heart of the Nordic wilderness.
The symbols on the reels are equally awe-inspiring, featuring iconic elements from Norse folklore. The mighty Mjolnir, Thor's legendary hammer, takes center stage, crackling with divine power. Shields adorned with intricate patterns, decorated horns, ornate helmets, and enigmatic runes complete the ensemble, evoking the spirit of Viking warriors and mystics.
Every spin feels like a journey through time as the reels come to life with these meticulously crafted symbols against the backdrop of the Scandinavian landscape. Wrath of Thor slots pay homage to Norse mythology and offer a visual feast that enhances the immersive gaming experience.
Wielding the Mighty Hammer
Let's start with the basics. Wild Symbols can substitute for any other symbol on the field besides special symbols. Stacked Mystery symbols appear on each reel and will be replaced by one other symbol at random. All Mystery Symbol slots are replaced by the same symbol every given spin. 
Nudging Multiplier Wild Reel appears only on reel 3. Landing the full reel will grant you a multiplier at random. Possible variants are:
2x Multiplier;
3x Multiplier;
5x Multiplier;
8x Multiplier;
10x Multiplier.
It acts as a Wild Symbol as well and can replace any other symbols besides specials. You will activate the Hold and Win Bonus feature if you land 6 or more scattered Bonus Symbols. Bonus symbols differ in value and rarity, providing prizes ranging from 2 to 20 coins. Bonus symbols are locked in place after starting the feature, and you get 3 free responses. After using all the available Free Spins, you will get an increased bonus for each locked Bonus Symbol, with Major Bonuses getting as high as 400 coins!
FAQ
Is there a demo mode for Wrath of Thor?
Nucleus allows people to play Wrath of Thor online slot for free in a fun demo mode. If you change your mind and want real prizes, you can instantly play Wrath of Thor for real money.
Does the game support mobile play?
You can use your phone or tablet without experiencing any technical issues, even without downloading an app.
Does Wrath of Thor have customizable features?
The game menu is up to all modern standards and offers a lot of potential for tweaking your personal preferences.
Verdict
Wrath of Thor at Red Dog Casino is a thunderous journey into the heart of Norse mythology, offering players an electrifying slot experience. With its 5 reels, 3 rows, and 243 paylines, it immerses you in the epic world of Asgard, where gods and giants collide and treasures abound.
The game's innovative features, such as the Nudging Multiplier Wild Reel and the Hold and Win Bonus, provide thrilling opportunities for big wins. As you spin the reels, the art and design transport you to a breathtaking Scandinavian landscape adorned with symbols like Mjolnir, shields, decorated horns, helmets, and runes.
Whether you're seeking the thrill of free play or real money wins, the Wrath of Thor slot machine delivers both. This slot game, playable on mobile devices without downloading, offers customizable features to suit your preferences. Prepare to embrace the power of Thor and embark on a mythological adventure where thunder and lightning usher in extraordinary fortunes. Don't miss the chance to please the Viking gods and uncover legendary rewards in Wrath of Thor!