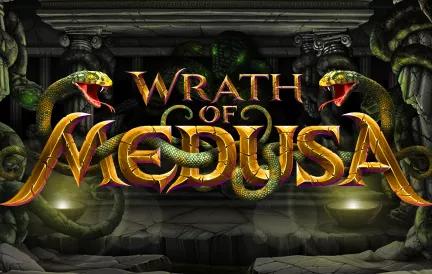 You know Rival is up to something special each time you see their game start with a cutscene. Wrath of Medusa by Rival Gaming features an intro clip depicting some Ancient Greek soldiers getting petrified and turned to dust by the gorgon, and this, as we shall see later, has a lot to do with the mechanics of this slot machine.
The game is built on the tried-and-tested Rival formula, where the player interacts with a 5x3 board with 243 paylines. It is also a 'high risk - high reward' type of game that can get you as much as $25000 ($50 x 500) in one spin. Apart from that, there are some genuinely intriguing features, so let's kick off this Wrath of Medusa slot review and head out to the monster lady's den!
Visuals & Design
The character to whom the slot game owes its name looks suspiciously similar to the goth girls seen in Tim Burton's movies - in a good way. Medusa and her soldier rivals are decently animated and do not steal the show by making some excessive moves and thus distracting the player. The harps and hornpipes heard in the background are a nice addition to the whole act.
Gameplay Basics
While we wish the return-to-player ratio of 93.8% was higher, there are still tons of tools designed to help you win the coveted treasure in the depths of Medusa's lair. The Wilds in the game are of the Expanding type, which means they will spread all over the reel unless prevented from doing so by the Scatters.
Bonus Features
At the first glance, the Scatters do their usual thing by triggering some free games. However, Rival Gaming went to the trouble of giving it an exciting touch. The idea is that Medusa (naturally) turns the soldiers to stone, and you get to pick one of them for a random amount of free spins. Essentially, this is a guessing game, and there's no way to find out which statue contains more spins.
FAQ
What minimum deposit is required to play Wrath of Medusa for real money?
The sum is different for each payment method we accept but stays within the range of $10 (Neosurf) to $30 (credit cards).
Can I play Wrath of Medusa online slot for free?
Playing for fun couldn't be simpler. If you don't have an account yet, proceed to the games section and play anything you want without any limits. The registered players can enjoy the demo of Wrath of Medusa at Red Dog Casino by logging out and refreshing the lobby page.
Is there any way to play the Wrath of Medusa slots on a mobile device?
Most modern gadgets will handle the game without a hitch, but we can't guarantee the same smooth experience on budget phone models and gadgets released more than a decade ago - Wrath of Medusa relies heavily on three-dimensional animations, after all.
Conclusion
One of the first Rival games to feature quality 3D renders, Wrath of Medusa looks and feels awesome to this day. This title is definitely not a game-changer, but still, it's a solid alternative to any of your favorites - especially considering how obsolete some other Rival's mythology slots are.
Sadly, games like Wrath of Medusa that have some artistic value to them and enjoyable gameplay don't see the light of day too often. If Rival could go easier on their production plan, the gamer community and the provider would benefit greatly from less frequent but more inspired titles.