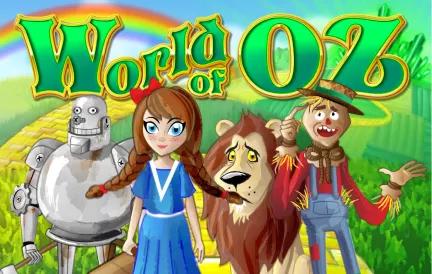 A fantastical realm where dreams come true, and enchantment knows no bounds awaits. Red Dog Casino invites you on an extraordinary journey with the online slot creation by Rival, World of Oz. Prepare to be captivated as you traverse the mythical landscapes of this magical world, brimming with riches and excitement. This review will explore the features and immersive gameplay that await within the World of Oz.
Even though the graphics are outstanding, it's not just the visual feast that will leave you spellbound. World of Oz by Rival offers a plethora of exciting features to enhance your gameplay. Get ready to spin the reels and uncover thrilling bonuses, including free spins, multipliers, and captivating mini-games. The game mechanics are intuitive and easy to grasp, allowing seasoned players and newcomers to enjoy the excitement without missing a beat.
Moreover, the generous payouts and high return-to-player (RTP) rate make this slot a truly rewarding experience. With every spin, you can unlock incredible treasures and secure substantial wins, adding an extra layer of anticipation and thrill to your gameplay.
Style and Design
As you embark on your adventure, you'll be greeted by stunning visuals that transport you to the heart of the enchanting land of Oz. The graphics are nothing short of extraordinary, with vibrant colors and intricate details bringing each character and backdrop to life. From the iconic yellow brick road to the Emerald City, every aspect of this slot is meticulously crafted to create a truly immersive experience.
One of the standout aspects of the World of Oz slot machine is its immersive storytelling. Rival has masterfully woven together the beloved elements of L. Frank Baum's classic tale with innovative gameplay mechanics. Each spin unravels a new chapter in the adventure, keeping you on the edge of your seat and eager to uncover what lies beyond the next reel.
Core Gameplay Mechanics and Features
The gameplay of World of Oz Slots is a thrilling and immersive experience that will keep you on the edge of your seat. This online slot seamlessly combines the classic elements of the Wizard of Oz with innovative features to create a captivating adventure like no other.
One of the highlights of "World of Oz Unified" is its wide range of exciting features and bonuses. Watch for the game's Wild symbol, represented by the Wicked Witch, which substitutes for other symbols to create winning combinations. Additionally, landing three or more Scatter symbols, represented by the Wizard's balloon, triggers the Free Spins feature, where you can earn a generous number of free spins with the potential for multiplied wins.
But the adventure doesn't stop there. World of Oz introduces captivating mini-games that add an extra layer of excitement to your gameplay. These bonus rounds allow you to interact with iconic characters from the Wizard of Oz, such as the Tin Man, the Scarecrow, and the Lion, as you help them on their quest. These mini-games offer the chance to win additional prizes and contribute to the immersive storytelling experience.
FAQ
Where can I find World of Oz on the Red Dog Casino Website?
First, to locate the World of Oz slot on the Red Dog Casino website and log into your account. Once you are logged in, navigate to the "Slots" or "Casino Games" section of the website. Typically, these sections are in the main menu or on the homepage. In the search or filter bar, type "World of Oz". The search results should display the game, allowing you to click on it and start playing right away.
Are any special game modes available for World of Oz at Red Dog?
If you haven't already decided whether the game is worth your time and attention, you may play World of Oz online slot for free in the demo mode. You may always switch to playing World of Oz for real money when you feel comfortable.
Can I play World of Oz on my mobile phone?
Almost all of Red Dog Casino's games are exceptionally compatible with all current portable mobile devices, saving you time and allowing you to play wherever and whenever you choose. You can play it for fun and real money on mobile devices.
Verdict
In conclusion, World of Oz at Red Dog Casino is a remarkable online slot that showcases Rival's commitment to delivering exceptional gaming experiences. Its stunning visuals, engaging gameplay, and enchanting storytelling will transport you to a realm where fantasy and fortune intertwine. Head over to Red Dog Casino and step into the magical realm of the World of Oz for an unforgettable gaming adventure like no other.