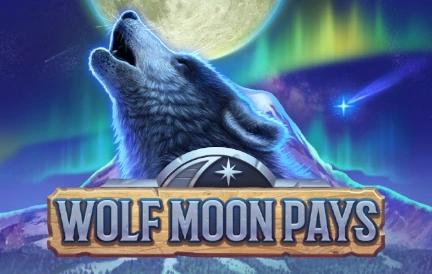 Welcome to the mesmerizing world of Wolf Moon Pays, a captivating slot game offered at Red Dog Casino. Developed by DiceLab studio, this thrilling slot takes players on a journey through nature and wildlife. With 5 game reels and 25 fixed pay lines, Wolf Moon Pays promises an unforgettable gaming experience. Let's dive into the details of this enthralling game in our Wolf Moon Pays slot review.
Theme Design
Wolf Moon Pays slots feature a stunning layout that perfectly complements its nature and wildlife theme. The game's backdrop showcases a serene natural landscape, with moonlit mountains and a starry sky, immersing players in a tranquil atmosphere. The symbols on the reels depict various animals, including powerful wolves as Wild symbols, majestic bison, soaring eagles, and graceful horses. The attention to detail in the design creates an authentic and visually appealing environment for players to enjoy.
Furthermore, the seamless integration of the animal symbols with the captivating scenery enhances the overall immersive experience, making players feel like they have stepped into the heart of the wilderness. Each spin is a visual delight, accompanied by subtle yet soothing sound effects that further contribute to the ambiance, ensuring players are fully engrossed in Wolf Moon Pays.
Gameplay Features
The slot game is packed with exciting gameplay features that keep players engaged throughout their adventure.
The Wild symbol, represented by the wolf, substitutes for other symbols (excluding special symbols) to form winning combinations, enhancing your chances of landing a big win. 
One of the standout features is the Free Games With Giant Symbol. If you manage to land three or more scatter symbols on the reels, the Free Games feature is triggered. A Giant Symbol appears during this round, covering multiple reels and increasing the potential for significant rewards. 
The Money Symbols feature adds an extra layer of excitement to the gameplay. When these symbols land on the reels, they reveal a random cash prize or one of the jackpots available in the game. It's a thrilling surprise that keeps the anticipation high with every spin.
Winning the Game
The Wolf Moon Pays slot machine offers a decent payout range to players, with the Return to Player (RTP) set at 96.52%. While wins can be frequent, managing your bankroll wisely and setting a budget before starting your gaming session is essential. It ensures a more enjoyable and responsible gaming experience.
Watch for the Wild symbol to increase your chances of winning, as it can help complete winning combinations. The Free Games feature with Giant Symbols is where the most significant wins can be found. Landing this feature can lead to massive payouts, making it a crucial moment in the game.
It's also advisable to play at a comfortable bet level, so you can extend your gameplay and explore all the exciting features of Wolf Moon Pays. 
FAQ
Can I play Wolf Moon Pays on a mobile phone?
Absolutely! The Wolf Moon Pays slot game is optimized for mobile play, allowing you to enjoy the adventure of the wild on your smartphone or tablet. Whether you're on the go or relaxing at home, the game's seamless mobile compatibility with iOS, Android, or Windows ensures you never miss a chance to spin the reels and explore its captivating features.
Is there a progressive jackpot in Wolf Moon Pays?
Yes, Wolf Moon Pays offers a "Jackpot" feature where players can win one of the available jackpots through the Money Symbols feature.
Can I play Wolf Moon Pays online slot for free before wagering real money?
Some online casinos may offer a demo version of the game that you can play for free. However, at Red Dog Casino, you can enjoy the thrill of Wolf Moon Pays for real money right away.
Conclusion
Wolf Moon Pays by DiceLab is an exceptional slot game that takes players on a mesmerizing journey through nature and wildlife. With its enchanting design, exciting gameplay features, and a chance to win attractive rewards, it's a top-notch choice for any slot enthusiast. The Free Games with Giant Symbols and the Money Symbols feature add an extra layer of excitement to the gameplay, making each spin full of anticipation. 
As you explore this captivating slot at Red Dog Casino, remember to embrace responsible gaming practices and set a budget for your gaming sessions. With its high RTP and thrilling gameplay, Wolf Moon Pays at Red Dog Casino is a slot adventure you won't miss. Good luck on your quest to uncover the treasures of the wild!