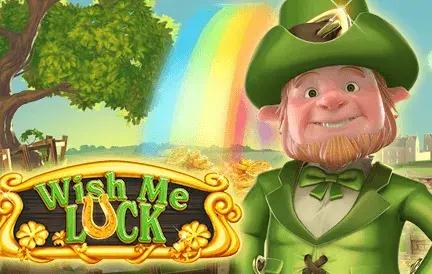 Embark on a charming Irish adventure with Saucify's Wish Me Luck online slot game. This delightful creation takes players to the heart of the lush Irish plains, where the pursuit of gold becomes an enchanting quest. With its vibrant design and engaging gameplay, Wish Me Luck promises an immersive experience filled with potential riches. Whether you are a casual player or a seasoned gambler, this slot offers an exciting opportunity to test your luck and uncover hidden treasures. In this comprehensive Wish Me Luck slot review, we'll explore the game's enchanting theme, various symbols and features, betting options, and the thrilling bonus rounds awaiting players. Join us as we delve into the magical world of Wish Me Luck.
Theme and Design
Wish Me Luck invites players to explore the mystical charm of Ireland, where leprechauns, rainbows, and pots of gold are part of everyday life. The game's visuals transport you to the scenic Irish countryside, setting the stage for a captivating gaming experience. With a 5x3 grid and 20 paylines, the slot offers a traditional yet visually appealing layout. The symbols, ranging from wild shamrocks to gleaming gold pots, capture the essence of Irish folklore, creating a charming atmosphere that players will find irresistible. The game's colorful design and smooth animations enhance the overall appeal, making Wish Me Luck a visual treat for slot enthusiasts.
Gameplay Features
Wish Me Luck introduces players to various exciting features, including wild symbols, scatters, and multiple bonus games that add depth to the gameplay. The wild symbol, represented by the gold shamrock inscribed with "WILD," serves as a substitute, helping players create winning combinations by replacing other symbols on the reels. Additionally, the scatter symbol, a gleaming gold pot, triggers the game's enticing bonus rounds, each offering unique opportunities for players to win big.
Betting Stakes
Wish Me Luck offers a flexible betting range for players eager to test their luck, catering to different budgets and preferences. The game allows bets starting from 0.20 coins per spin, making it accessible to players looking for low-stakes entertainment. On the other hand, high rollers can enjoy the thrill of higher wagers, with the maximum bet set at 25.00 coins per spin. This diverse range ensures that players of all levels can indulge in the excitement of Wish Me Luck, tailoring their bets to match their individual strategies.
Wish Me Luck Slot Symbols
Wish Me Luck slots can only boast a more or less standard for every slot set of symbols.
Wild Symbol: The gold shamrock icon, inscribed with "WILD," acts as the game's substituting symbol, aiding players in forming winning combinations.
Scatter Symbol: Represented by the gold pot, the scatter symbol triggers the game's engaging bonus features, offering players opportunities for lucrative prizes.
High-Value Symbols: The rainbow, wishing well, game logo icon, and traditional poker symbols constitute the game's high and low-value standard symbols, each contributing to the overall excitement of the gameplay.
How to Win
Wish Me Luck presents players with a series of captivating bonus rounds, enhancing the gameplay and increasing the chances of substantial wins.
Wishing Well Bonus: Landing three or more wishing well symbols activates this bonus game. Players select a symbol from those presented on the reels, unveiling hidden prizes in the process.
Rainbow Run Bonus: Triggered by landing at least three rainbow symbols, this bonus features a lively leprechaun running along a rainbow, collecting prizes multiplied by the total bet. The excitement continues until the STOP icon appears, concluding the round.
Pot of Gold Bonus: This bonus round comes to life when three scatter symbols appear simultaneously. Players select pots at random, revealing hidden values. The game continues until two matching pots are uncovered, with the player winning the corresponding prize multiplied by the total bet.
FAQ
Can I play Wish Me Luck online slot for free? 
Yes, players have the option to enjoy Wish Me Luck for free in demo mode, allowing them to explore the game's features and mechanics without wagering real money. This demo mode provides a risk-free opportunity to familiarize oneself with the game before venturing into playing Wish Me Luck for real money.
Is Wish Me Luck available at Red Dog Casino? 
Yes, players can enjoy the exciting gameplay of Wish Me Luck at Red Dog Casino, a renowned online casino that hosts a wide selection of high-quality slot games. Red Dog Casino provides a user-friendly interface, excellent customer support, and attractive bonuses, creating an enjoyable environment for players to experience the magic of Wish Me Luck slot machine.
Can I play Wish Me Luck slot for fun on my mobile device?
Absolutely! Wish Me Luck is optimized for mobile devices, allowing players to enjoy the game for fun or real money on their smartphones or tablets. The mobile version offers the same enchanting graphics, engaging features, and potential wins, ensuring a seamless and enjoyable experience on the go.
Conclusion
In conclusion, Wish Me Luck by Saucify delivers an enchanting and rewarding experience for players seeking an Irish-themed slot adventure. With its vibrant visuals, engaging gameplay features, and diverse betting options, the game caters to casual players and enthusiasts looking for thrilling gameplay. Including special symbols, bonus rounds, and mobile compatibility (you can play this slot game on any mobile device) enhances the overall appeal of Wish Me Luck, creating an immersive and entertaining gaming experience. Whether searching for hidden treasures or simply looking for an enjoyable slot game, Wish Me Luck invites you to explore the magic of Ireland and test your luck in a world filled with excitement and potential wins. Head over to Red Dog Casino or other reputable online casinos to embark on this charming journey, and may the luck of the Irish be with you!