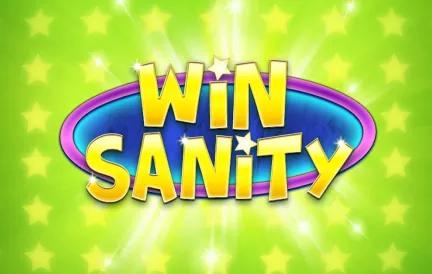 Winsanity by Rival is an unapologetic streaming bright neon throwback to the glory days of stereotypical Vegas, and the omnipresent game TV shows how they are presented in popular culture. It's a simple 3x3 slot with a classic design but modern quality-of-life features and a number of interesting tweaks to the game process to make it more varied and exciting. Be you a seasoned slots veteran or a newcomer, it has something to offer. For the rookies, the simplistic nature of it would provide a perfect stepping stone to get into the cookie pot of virtual slots. For the veterans, it can be a nice callback and indulgent nostalgia trip down memory lane while spinning reels and getting wins.
The game has to offer the following:
distinct and wild design;
dynamic gameplay due to high volatility keeps you engaged and thrilled;
soundtrack that kicks butts;
low entry barrier.
If this sounds like something that tickles your fancy, read about Winsanity at Red Dog Casino!
Graphics and Presentation
Winsanity slots remind us of an American game show from the 1980s. It's arrogant, it's brash, it's cheesy, and it's just what we want! It is rather absurd, but for gamers that brave a distinctive concept, it is primarily a ton of colorful fun. It embraces and basks in all of its tacky glory, and we love this!
The lime green stars on the bright green background contrast with the purple-framed reels. There are just five symbols total, plus three multipliers, and they are all typical symbols seen in slot games. Four symbols are different-sized and colored bars, while the fifth is a blue seven. The star-encircled, brilliant yellow multiplier symbols 2X, 4X, and 6X burst when they appear as a part of a winning combination.
The music is essentially what you would imagine coming from a quiz show on a weekend while growing up. Every time a significant victory occurs, the music becomes more energetic and punchy. We advise you to leave the music on because it enhances the gameplay.
Game Mechanics Details
Winsanity's core mechanics are what you would expect from a classic 3 reels slot, even though a virtual one. The biggest payout, which is 3,000 times your investment, is provided by any three multipliers combined. The 6x multiplier, the red BAR, and the BARS (orange, green, and blue) are listed after that. The 4x multiplier is one of the Winsanity slot machine's lesser-paying symbols.
The game also features Scatters and Wild Symbols. Scatters grant you a payout regardless of where they appear on the payline and are fixed to the multiplier number. Wild Symbols will take the place of any other symbol to make the best possible combination on the winning reel. They, however, do not replace scatters. If there is more than one Wild symbol on the winning line, they are all multiplied and added to the total sum of the win.
FAQ
Where can I play Winsanity online slot for free?
Red Dog Casino offers a free demo practice mode available to players who don't feel confident about playing Winsanity for real money yet. For example, those just looking to "sample" the game before actually putting something on the line.
Can I play Winsanity At Red Dog Casino with crypto?
Of course! Check the FAQ and Banking sections of the site for more details and how to do that. You might also get bonuses if you make deposits in crypto!
Has the game been well-optimized for mobile gadgets?
Rival is one of the best-known names in the industry and has been on the market for decades. All of their products are well-made and have to pass quality assurance. If there are no inherent issues with the device you want to play it on, and it's been recently updated, you are good to go. Should you have any problems with the game, you are welcome to contact Red Dog Casino's support team, which is here for you around the clock.
Verdict
Because of its relatively low RTP, Winsanity by Rival is a fast-moving game that may easily deplete the balance. Yet in Winsanity, things may change instantly, and if a multiplier coincides with high-paying symbols, the reward might be huge. Winsanity successfully combines a conventional playing grid with just enough drama and reward to maintain the interest of most players.