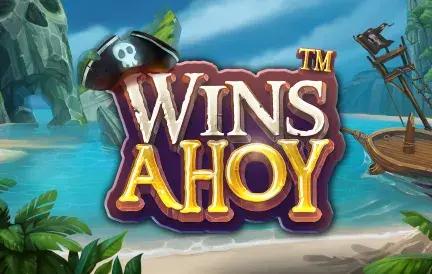 Ahoy, lad! Set sail on a thrilling pirate adventure with Wins Ahoy by Nucleus Gaming. In this comprehensive Wins Ahoy slot review, we'll dive deep into the high seas of this pirate-themed slot machine game, exploring its gameplay, features, and tips for navigating the treacherous waters in search of hidden treasures.
Theme Design
Prepare to board a pirate ship and join a crew of seas on a quest for riches. Wins Ahoy slots immerse players in a world of weathered wooden decks, tattered sails, and the boundless expanse of the ocean. The game's visual design is exceptional, creating an authentic pirate atmosphere that brings the spirit of adventure to life.
As you spin the reels, you'll encounter symbols that seamlessly fit the theme, including pirate flags, treasure maps, cannons, and chests overflowing with gold and precious gems. Each symbol is meticulously crafted to enhance the overall pirate experience, and the graphics are crisp and vibrant, making every spin an exciting adventure.
To complement your high-seas escapade, the game features a rousing soundtrack that sets the tone for an immersive gaming experience. You'll hear the sounds of creaking ships, rolling waves, and the occasional cry of seagulls. It creates an atmosphere that will keep you entertained as you set sail on your journey for buccaneers' plunder.
Gameplay Features
Wins Ahoy slots by Nucleus Gaming offer a treasure trove of exciting gameplay features.
Wild Symbol: Watch for the Wild Symbol, represented by the fearsome pirate captain. This symbol can substitute for other symbols on the reels, helping you create winning combinations and increasing your chances of securing valuable loot.
Multiplier Bar: Watch the multiplier bar at the top of the screen grow with each winning spin. The longer your winning streak, the higher your rewards can become. It adds an element of excitement to your gameplay as you aim for bigger and better wins.
Bonus Round: Landing three or more Bonus symbols will trigger the Bonus Round, a thrilling feature where you can choose from a selection of treasure chests. Each chest conceals hidden prizes, adding an extra layer of suspense and the potential for substantial rewards to your pirate adventure.
Free Spins: Wins Ahoy includes a Free Spins feature, activated when you land three or more Free Spins symbols. During this round, you can accumulate additional free spins, increasing your chances of reaping even more rewards and plundering the riches of the high seas.
FAQ
Can I play Wins Ahoy online slot for free?
Certainly! Online casinos offer a free play or demo version of Wins Ahoy slots, allowing you to become familiar with the game, its features, and its mechanics without risking real money. Try to play Wins Ahoy at Red Dog Casino to practice your pirate skills and get a feel for the game before setting sail in search of real treasures.
Are there any special bonus rounds in Wins Ahoy?
Yes, Wins Ahoy slots give an exciting Bonus Round that can be triggered by landing the Bonus symbol. During this round, you'll be able to select from a range of treasure chests, each concealing a hidden prize. It adds an extra layer of excitement and the potential for significant rewards to your pirate adventure.
How can I increase my chances of winning in Wins Ahoy?
To maximize your chances of success in Wins Ahoy, consider the following tips:
adjust your bet size wisely to match your budget and risk tolerance;
keep a close eye on the multiplier bar at the top of the screen, as it can boost your winnings;
practice in the free-play or demo mode to become more familiar with the game's mechanics before wagering real money.
By following these strategies, you can confidently navigate the high seas of Wins Ahoy by Nucleus Gaming and improve your chances of seizing the treasure!
Conclusion
In conclusion, Wins Ahoy delivers an entertaining pirate-themed slot machine experience that captivates casual players and seasoned adventurers. It doesn't matter if you play on PC or mobile, it's available for all platforms. With its exceptional graphics, engaging features, and the allure of hidden treasures, Wins Ahoy offers plenty of excitement for anyone seeking riches or simply looking for a fun gaming session. So, hoist the Jolly Roger, set sail on this thrilling slot adventure, and see what treasures await on the horizon!
As you navigate the treacherous waters of this slot game, the constant thrill of the multiplier bar growing with each winning spin keeps the anticipation high. The Bonus Round, with its choice of treasure chests, adds an element of suspense and the potential for substantial rewards. The Free Spins feature offers extended gameplay and more opportunities to plunder riches.
With the option to play for free before playing Wins Ahoy for real money, players can become familiar with its mechanics and features. Whether you're a landlubber or an experienced pirate, Wins Ahoy by Nucleus Gaming provides a captivating gaming experience worth exploring. Set sails for an adventure full of hidden treasures and find them all!