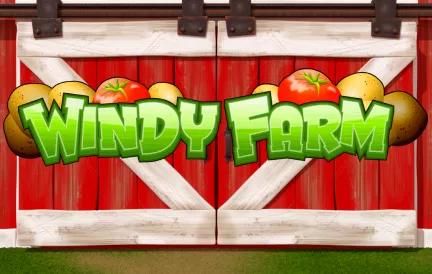 Finding someone who won't be happy to spend a few days in the countryside is almost impossible. That area always brings us refreshments from the city hustle, a chance to remember how crystal clear air smells like, and most importantly, it blesses us with peace. Windy Farm by Rival might not be the quietest place, but it will surely grant you an unforgettable gaming experience!
This 5-reel slot machine has 50 paylines, a grand jackpot of $3,750.00, and a few additional functions that will help you to navigate your way to glittering riches and juicy piles of cash. Want to learn how you can do it? Continue reading our Windy Farm slot review and find answers to your questions!
Theme & Design
Now let's dig deeper into the visual aspects of this slot game. After a quick loading process, Windy Farm slots welcome you with a simple yet familiar and attractive setup. The background features a typical red wooden barn, five transparent reels framed between two weather vanes in the center of the screen, and at the bottom, you can see a piece of green grass. What we find satisfying is the moment after you press the play button - the wind vanes begin to spin, and you can see tumbleweeds and clouds of dust begin to roll across the screen. Nevertheless, there's one thing we don't like: the squeaking sound made by those metal roosters. But remember that you can always go to settings and disable system sounds or mute the tab in your browser.
Regarding the visual work itself, it came out pretty satisfactory. The aesthetics are somewhat cartoonish, with warm and baked summer tones resembling that unparalleled childhood feeling. Horses, horseshoes, pigs, angry bulls, goats, mailboxes, watering cans, wooden carts with Easter eggs, chickens, A, K, J, Q, letters, and the number 10 present the symbols of this game. Finally, we give extra points for detailing and artwork, as they will instantly please your eyes and put a smile on your face. All in all, in terms of theme and design, this game gets four stars out of five.
Core Gameplay & In-Game Extras
Let's look under the hood and get acquainted with this slot machine's core mechanics. Making bets is straightforward, offering the flexibility to adjust them as needed. Players can customize their preferred coin values by utilizing the plus or minus denomination choices, spanning from a minimum of $0.01 to a maximum of $0.25. The 'Select Coins' options at the bottom of the screen allow betting up to 10 coins, with a maximum bet of $125.
Players will find plus and minus options on both the reels' left and right sides that allow them to adjust the paylines for each play, ranging from 1 to 50. Moreover, a highly convenient 'Auto' feature is also available. This option allows players to activate automatic reel spins, providing a respite for their hands.
Next up, we have a couple of special features that will certainly add some thrilling plot twists to your gaming experience and help you fill your pockets with cash. Let's see what they are capable of!
Scatter Symbol — collecting at least 3 angry bull symbols will trigger the Free Spins round.
Free Spins — after you land 3 Scatters, you are granted 7 Free Spins to increase the potential of bigger payouts.
Wild Symbol — the true delight of this feature lies in its sophisticated mechanics.
In the case of strong winds, the wild symbol expands upwards, while it expands downwards during calmer conditions. Nevertheless, it retains the fundamental characteristics of any other wild symbol by substituting basic symbols and forming winning combinations. Additionally, when the wild symbol appears and contributes to a winning combination during a free spin, an automatic x2 multiplier is applied to amplify the payout.
FAQ
Can I play Windy Farm online slot for free?
Yes, of course! You can try your skills and train in the free demo version to play just for fun. Later on, you can always switch to the full mode and play Windy Farm for real money.
Can I play Windy Farm at Red Dog Casino with my mobile phone?
Absolutely! Our casino has a top-notch browser version available from almost any mobile device.
What is the biggest cash prize in Windy Farm?
The grand jackpot in this enthralling slot machine is $3,750.00.
Verdict
With pleasant graphics and smooth animations, convenient core mechanics, and a few special features, this game will surely grant you a good time topped up with many exciting wins. Transport yourself to the countryside with only a few clicks and enjoy your play!