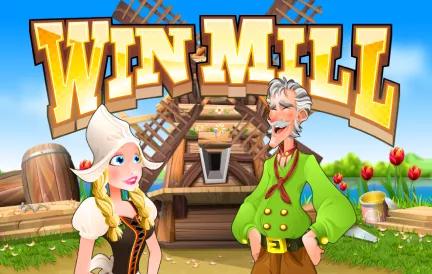 We are constantly impressed whenever we come across anything completely novel in the world of online gambling. And we were astonished to see Win Mill by Rival Gaming, an original new game that portrays a pastoral landscape from traditional Dutch living and offers an entirely fresh viewpoint on the world of three-reel slots because this three-reeler is anything but classic! To get into more details, please follow the Win Mill slot review below.
Graphics & Design
Going Dutch in the Win Mill slots refers to leaving for the Netherlands to play this vintage 3-reel slot machine with a windmill motif.
The transparent reels of this delightful game allow players to choose from up to 5 paylines to play, and the flat, green fields of the Netherlands make for a tranquil backdrop while you watch the Win Mill spin. You'll also get to meet Helga, a stunning blonde wench who will greet you with a warm smile and a tightly pulled corset-style top, as well as Lars, the owner of the Win Mill. Helga will do much more than that, though, as she can give you a Find The Coin Bonus at random, in addition to a Catch The Coin Bonus Round and a variety of prize icons with Dutch themes that you must line up.
Core Gameplay
As each prize at the Win Mill is doubled by your coin bet, the first thing you should decide is how much you intend to try to win. Except for the highest reward, which gets a bonus of 2,000 coins when earned when playing 3 coins, prizes increase proportionately whether you choose to play 1, 2, or 3 coins per line. Your total winnings are also increased by the coin value you decide to use, which can be between 0.01 and 5.
Clogs will keep you dancing there, or even there on the step, with rewards of between 3 and 9 coins. To win prizes, line up three identical prize symbols. Lars will also pay you between 9 and 27 coins or 30 and 90 coins if you aid him with his repairs by spinning in saws or wood plains. And lining up some Gouda with 90 and 270 cents prizes is undoubtedly not cheesy. However, if you manage to spin in three tulips, which are worth 1,000 coins when playing one coin, 2,000 coins when playing two coins, and an impressive 5,000 coins when playing three coins, you will be singing all the way to Amsterdam.
In-Game Extras
As was previously said, when you enter Win Mill at Red Dog Casino, you'll see a Dutch miller and his wife who eagerly await any wins you achieve with their tools, such as their clogs, saws, tulips, golden coins, etc. Additionally, despite having only three reels, the base game payout rate is decent, so you may anticipate some good wins.
Given that it has three reels, one wouldn't anticipate it to have a lot of unique mechanics, but because Win Mill isn't a traditional slot, it gives us better-winning odds thanks to two features:
one of these happens randomly and has the miller's wife standing in front of you with her hands clasped, one of which has a 360-credit coin hidden inside. By selecting the right hand, you can improve your balance. She shows up frequently, so you'll have more opportunities to win if you miss;
the other feature is a bonus game that starts when three symbols of golden coins appear on a payline. In it, the Winmill itself will be shown to you, and your mission will be to gather the coins that keep bouncing out of the mill to earn the most significant prize possible.
FAQ
Is Win Mill mobile-friendly?
It doesn't matter what mobile device you prefer - the Win Mill slot game will be accessible via your browser. Each player will be able to enjoy the game without any restrictions and limitations.
What is the Win Mill RTP rate?
The Win Mill game RTP rate is 95.53%. It is considered relatively high, so enjoy your big game and great winnings.
Can I play Win Mill online slot for free?
Yes, there is a demo version to play for fun and enjoy the game without pressure. But only when playing Win Mill for real money you'll get the actual payouts!
Bottom Line
It is one of the business's most inventive three-reel slots ever created. For that matter, it is also the most rewarding, thus, it appropriately carries the term. Therefore, Win Mill is a title you shouldn't miss, one that you'll go back to, and one that you'll recall by all nice things, whether or not you're a fan of Dutch culture and nature.