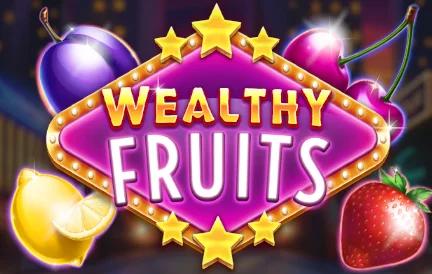 DiceLab is a developer known for its unorthodox approach to game production and daring experiments. Still, every company needs at least several titles for beginners in its portfolio. Wealthy Fruits by DiceLab Gaming is one of such games - slick and polished to perfection but not overburdened with gameplay mechanics, which is reflected in its key specs:
RTP of 96.2%;
20 paylines on a 5x3 board;
low volatility (frequent, moderate payouts);
Fruity Riches Free Game bonus feature.
Read more of this Wealthy Fruits slot review to get a clear picture of what to expect from this game regarding player experience and rewards!
Design & Graphics
The combination of fruits and wealth may seem too abstract and far-fetched, but there's an obvious reason for such a pairing if you consider the history of slots and the symbols used in vintage machines. With this title, DiceLab revisits those clunky devices of yore and fills the board with dazzling, appetizing images of the classic slot fruits. The choice of the backdrop image, a New York street from the 1930s, may also raise a few eyebrows, but it all somehow amalgamates into a coherent style with the help of a brassy jazz loop thumping in the background.
Core Gameplay
Wealthy Fruits is brilliant in its unsophisticated nature - show the slot game to a person completely unfamiliar with the genre, and they will grasp the essence within the following minute. Your win streak directly depends on how many Wilds and Scatters you can hit on the playing board, and both symbols behave like in most other slots. DiceLab added the Morphing Wilds mechanic to spice up things a bit: a stack of identical symbols on the same reel will immediately turn into three Wilds.
In-Game Extras
Fruity Riches Free Game, the title's only bonus feature, mostly follows the classic Free Spin rules - to activate the mode, you must hit 3 to 5 Scatters, which will grant you 7 to 15 spins gratis, respectively. It looks typical so far, but the slightly modified retriggering rules make this feature shine - while the mode is active, the player can extend the Free Spin count by hitting just two Scatters.
FAQ
Do I need a verified account to play Wealthy Fruits for real money?
Undergoing the KYC procedure is only necessary to become eligible for withdrawals. You may start betting cash and building up your bank right away - mere seconds after signing up, making the first deposit, and claiming our awesome Welcome deal.
Is it possible to play Wealthy Fruits online slot for free?
Yes, but not at Red Dog since we are a real-money platform. If you want to test the game's demo, your best course of action is to look it up on some casino review sites - most of those embed the trial version into the page dedicated to the game, thus allowing you to explore it for fun.
Can I play Wealthy Fruits slots on my smartphone?
Certainly, DiceLab Gaming follows all the mobile gaming standards, which means a good portion of the development cycle is dedicated to cross-platform adaptation. As a result, you can play from your browser without worrying about buying a more powerful device or updating the existing one.
Verdict
Wealthy Fruits by DiceLab Gaming is a great entry-level title designed to showcase the essence of slot gaming. Despite its relative simplicity, the slot machine has the potential to captivate you for hours with its vibrant animations, jazzy background muzak, and dynamic gameplay. If a trip to Broadway is not something you planned for this season, playing Wealthy Fruits at Red Dog Casino may be the next best thing!