Vegas Triple Pay Deluxe Video Slot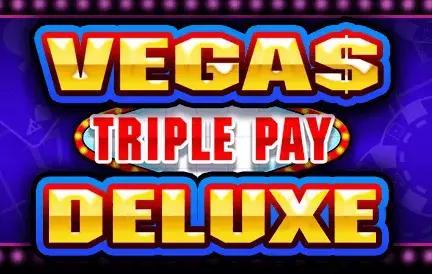 Ever dreamt of experiencing Las Vegas in all its splendor without leaving the comfort of your home? The Vegas Triple Pay Deluxe slot at Red Dog Casino brings that dream to life. This game is not just another slot machine; it's an embodiment of the Las Vegas spirit, combining traditional symbols with state-of-the-art features.
From the onset, Vegas Triple Pay Deluxe immediately stands out with its luminous graphics and pulsating soundtrack, reminiscent of a night out in the bustling streets of Sin City. The symbols, ranging from the iconic lucky seven to shimmering diamonds, further enhance the Vegas atmosphere, making every spin feel like an event.
Key Features of Vegas Triple Pay Deluxe:
Triple Pay Multiplier: As the name suggests, players have the chance to multiply their winnings, upping the stakes and the excitement.
Deluxe Bonus Rounds: Unearth these, and you're in for a roller-coaster ride of free spins, multipliers, and potential big wins.
Vibrant Visuals: A feast for the eyes, the slot's design is a harmonious blend of classic Vegas symbols and contemporary animation.
Red Dog Casino, known for its keen selection of high-quality games, proudly features Vegas Triple Pay Deluxe in its repertoire. The slot machine's responsive mechanics and the flawless integration ensure that players have an immersive and glitch-free gaming experience.
In conclusion, Vegas Triple Pay Deluxe offers more than just a chance to win; it provides an experience. It's an ode to the glamour and allure of Las Vegas, packaged into a slot machine that delivers both thrill and nostalgia. For those yearning for a taste of Vegas magic, this game at Red Dog Casino is the ticket. So, put on your best attire, grab a cocktail, and let the lights and sounds of Vegas Triple Pay Deluxe transport you to the heart of the casino capital!