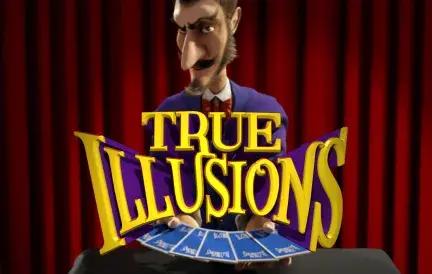 Step into a mesmerizing world of magic and mystery with True Illusions, the spellbinding slot machine now featured at Red Dog Casino. Designed to enthrall players with its illusion-themed gameplay, True Illusions transports you to a magical stage where every spin reveals secrets and surprises.
True Illusions boasts captivating graphics that make you feel like you're seated in the front row of an exclusive magic show. From cascading cards to levitating assistants, the visuals truly capture the essence of a grand magician's performance.
Highlights of True Illusions:
Magician's Tricks: Watch out for the magician's special symbols which can make other symbols disappear and reappear, multiplying your chances of a win.
Free Spins Feature: Pull a rabbit out of the hat with the free spins bonus, where winnings can get a magical boost.
Pick-a-Card Bonus: Choose wisely, and your chosen card can unveil impressive rewards, adding an interactive element to gameplay.
Beyond its visual enchantments, the slot machine impresses with its sound design. The soft murmur of a captivated audience, the dramatic flair of the magician's gestures, and the suspenseful music all combine to make every spin an experience to remember.
Red Dog Casino continues to amaze with its array of top-tier games, and True Illusions is no exception. This game promises not just wins but a full-blown entertainment experience, drawing players into its magical realm and keeping them hooked with its intriguing features.
In conclusion, True Illusions is more than just another slot game; it's a magical extravaganza that promises both thrill and fun. Whether you're a seasoned gamer or a newcomer to the world of slots, you're in for a treat with this enchanting offering at Red Dog Casino. Prepare to be dazzled!