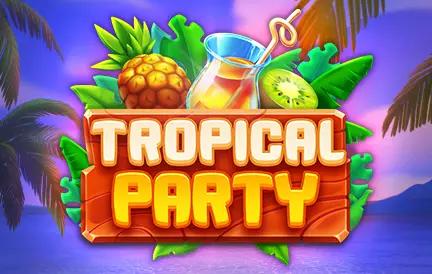 Escape to a virtual beachfront paradise with a twist in Tropical Splash by Nucleus Gaming, that invites you to unwind on its five reels and explore 40 enticing paylines. This tropical-themed slot offers a serene yet potentially rewarding gaming experience on your PC and mobile devices, making it the perfect retreat for those craving the exotic flavors of tropical fruits and the thrill of spinning the reels. Let us approach the Tropical Splash slot review and see what it brings.
Theme & Design 
Tropical Splash by Nucleus Gaming welcomes you with a beach backdrop and wave flow framed by the swaying palm tree silhouette. While it takes inspiration from classic fruit slot machines, this slot infuses a tropical twist into the mix. Instead of the usual symbols, you'll be greeted by an array of fruits like juicy strawberries and sour kiwis. The gameplay has an energetic soundtrack featuring spirited marimba tunes. It's important to note that the sound effects, including the reel-spinning sounds, can become quite lively, especially during autoplay mode.
Game Features
Tropical Splash slots boast a selection of engaging gameplay features designed to enhance your gaming experience.
Tropical Towers. One of the standout features in the game is the Tropical Towers. Achieving three identical symbols on a single reel triggers this feature, awarding you a three-of-a-kind prize. This feature is set apart because the winning symbols disappear, allowing new symbols to cascade into place. It can lead to consecutive wins in a single spin, adding excitement to the game.
Wild Berry Roll Rumble. The Wild Berry Roll Rumble adds an element of unpredictability to your gameplay. This feature can randomly cover up to four reels with the Wild Berry Roll Wild symbol, increasing your chances of forming winning combinations and boosting the overall thrill.
Free Spins. The starfruit symbol acts as your gateway to the Free Spins round. Landing three or more starfruit symbols on the reels triggers this feature, with the number of symbols determining the number of free spins you receive. Here's the breakdown:
three starfruits: 7 free spins;
four starfruits: 12 free spins;
five starfruits: 20 free spins.
During the Free Spins round, you're in for a treat. Wild Berry Roll Rumbles are guaranteed, providing additional opportunities to capitalize on the Wild Berry Roll Wild symbols. 
Betting. In Tropical Splash, adjusting your bet is a breeze. Click the arrows of the bet adjustor to set your wager as low as 0.20 or as high as 100.00, providing a decent range to cater to various budgets. However, please note that there isn't a Max Bet button available.
Winning the Game
To maximize your chances of success and fully immerse yourself in the tropical paradise of Tropical Splash by Nucleus Gaming, consider these tips and plan your strategy accordingly:
Activate paylines. Ensure that you activate as many paylines as your budget permits. This step increases your opportunities to form winning combinations across the reels, enhancing your overall gameplay.
Monitor stacked symbols. Keep a keen eye out for opportunities to stack three identical symbols on a single reel. Triggering the Tropical Towers feature can lead to significant wins and contribute to an exhilarating gaming experience.
Harness free spins. During the Free Spins round, make the most of the guaranteed Wild Berry Roll Rumbles and the transformation of Tropical Towers symbols into Wilds. This combination can result in impressive payouts and elevate your enjoyment of the game.
Secure wins. With these betting options and symbol payouts, you can tailor your gameplay to your preferences and potentially reap the rewards of this tropical adventure.
Your current bet level influences your rewards. For those starting with a 0.20 wager, here's how the symbol payouts stack up:
J - 0.05, 0.10, 0.20;
Q - 0.05, 0.10, 0.25;
K - 0.07, 0.12, 0.25;
A - 0.07, 0.12, 0.30;
Lime - 0.10, 0.20, 0.50;
Orange - 0.10, 0.20, 0.60;
Pineapple - 0.12, 0.25, 0.70;
Watermelon - 0.15, 0.30, 0.80;
Kiwi - 0.20, 0.40, 1.50;
Strawberry, Wild - 0.25, 0.50, 2.00;
Starfruit - 0.60, 2.40, 10.00.
FAQ
Can I play Tropical Splash online slot for free?
Yes, you can play Tropical Splash online slot for free in demo mode at various online casinos that offer games by Nucleus, including Red Dog Casino. It allows you to enjoy the game without wagering real money.
Where can I find a Tropical Splash slot review?
You can find a comprehensive Tropical Splash slot review on reputable online casino review websites and gaming forums. These reviews provide insights into the game's features, gameplay, and overall experience.
How can I play Tropical Splash for real money?
To play Tropical Splash for real money at Red Dog Casino, you must create an account, deposit funds, and navigate to the casino's game library. Search for Tropical Splash among the available slots, select your desired bet, and start playing for the chance to win real cash prizes.
Conclusion
In conclusion, Tropical Splash by Nucleus Gaming slot game offers players a virtual beachfront paradise infused with the delightful flavors of exotic fruits and engaging gameplay features. The visual design effortlessly blends classic fruit machine aesthetics with a vibrant tropical theme, immersing players in an inviting gaming environment. The Free Spins feature remains the highlight of Tropical Splash slots, with its retriggering potential and guaranteed Wild Berry Roll Rumbles. 
Whether you seek a beach to escape for fun or to achieve significant wins, Tropical Splash caters to various budgets through its flexible betting options. Immerse yourself in this virtual paradise, taste the tropical flavors, and ride the waves to victory. Best of luck!