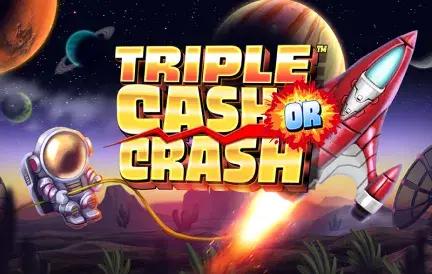 The adrenaline-pumping experience of Triple Cash or Crash is taking the online gaming community by storm. Exclusively featured at Red Dog Casino, this slot machine stands out as a high-stakes game, promising either grand rewards or the dramatic tumble of fortunes.
Triple Cash or Crash delivers a gripping narrative where players are faced with momentous decisions at every spin. The design draws you into a world of opulence and risk, where the tantalizing allure of immense wealth goes hand in hand with the looming shadow of potential loss.
Engaging elements of Triple Cash or Crash:
High Roller Spins: Bet big for proportionally grander rewards.
Vault Bonus Round: Break the safe and grab the riches, but be careful not to trigger alarms.
Double or Nothing Feature: The name says it all - a chance to double your win or walk away with nothing.
Intuitive Gameplay: Ensuring even novices can delve into the high-stakes world with ease.
One of the salient features of this game is its suspenseful atmosphere. Every spin, every choice feels momentous, echoing the real-life thrills of high-stakes gambling. This slot machine doesn't merely provide a gaming experience; it offers a rollercoaster of emotions, highs, and lows.
Red Dog Casino has once again proven its caliber in selecting top-notch games for its library. By introducing Triple Cash or Crash, they've catered to players who seek not just entertainment but also the heart-racing excitement of big risks and even bigger rewards.
In conclusion, Triple Cash or Crash isn't just a game; it's an experience, a challenge, and an invitation to dive into a world where fortunes are made or lost with a single spin. If you're prepared to take on the challenge, this is the game to test your mettle. So, strap in and prepare for a thrilling ride!