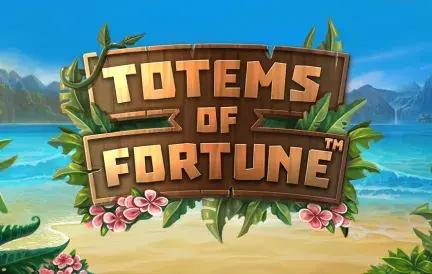 Prepare for a remarkable voyage into the heart of Polynesian mystique with Totems of Fortune by Nucleus Gaming. As you embark on this adventure, you'll find yourself immersed in a world where a fiery Hawaiian volcano is the backdrop for a slot game like no other. With its five reels, four rows, and 40 fixed paylines, Totems of Fortune slots promises entertainment and the potential for substantial rewards. Let's take a closer look at a Hawaiian treasure in the Totems of Fortune slot review down below.
Theme & Design
From the moment you launch Totems of Fortune slots, you'll be transported to a captivating world where the raw power of a Hawaiian volcano meets the artistry of ancient tribal totems. The game's reels are cleverly housed within a bamboo-framed shack, creating a striking visual contrast against the backdrop of melting lava. Each symbol is a real beauty of design, boasting a subtle 3D effect that adds depth to the gameplay. Wins and the appearances of the formidable God Pele are celebrated with delightful animations, while an innovative reel-stopping animation sets this game apart from the rest.
However, it's worth noting that while the game's island-themed music beautifully complements the Hawaiian theme, the sound effects might overshadow the music. That being said, it's not an issue, and you won't be distracted from chilling near Hawaiian volcano shore.
Gameplay Features
Wild Totem symbols are the linchpin of your quest for winning combinations, substituting for other symbols to boost your chances. Aligning five Wild Totems on a payline can lead to generous rewards. The Scatter symbol, personified by God Kane, serves as your gateway to the Totem Free Spins feature. Unlock up to 20 free spins, with multipliers determined by the number of Scatter symbols. These multipliers can stack, offering the tantalizing possibility of substantial wins. The enigmatic Mystery Totem feature introduces an element of unpredictability, transforming into any symbol to enhance your odds of forming winning combinations.
Winning The Game
Payouts in Totems of Fortune by Nucleus Gaming vary depending on the symbols.
When matched five times on a payline, the Goddess Pele bestows an awe-inspiring 250x your total bet.
God Kane, with five symbols on a payline, rewards you with a substantial 100x your total bet.
When aligned in sets of five, Tiki Bar Symbols grant you a respectable 25x your total bet.
Sign Symbols, in fives on a payline, result in a rewarding 12.5x return on your total bet.
The remaining symbols offer payouts ranging from 1x to 4x your total bet.
To optimize your chances of success, activating all paylines within your budget is prudent, as it creates numerous opportunities for winning combinations. Keep a keen eye on the Wild Totem symbols, as they act as substitutes and carry a 2x multiplier, elevating your potential winnings.
FAQ
Where can I play Totems of Fortune?
You can play Totems of Fortune online slot for free at Red Dog Casino. Whether you seek free play without registration or a shot at real-money play, the game accommodates your preferences. You can savor the game on diverse devices, including PCs, mobile phones, and tablets.
What sets Totems of Fortune apart from other slots?
Totems of Fortune distinguishes itself with unique features, including Wild Totem symbols, Totem Free Spins enriched with multipliers, and the enigmatic Mystery Totem feature. These elements combine to create an electrifying and potentially lucrative gaming experience.
Can I play Totems of Fortune for real money?
Indeed, playing Totems of Fortune for real money is possible. Alternatively, you can explore the game's mechanics in demo mode to acquaint yourself with its features and gameplay before playing Totems of Fortune for real money.
Conclusion
In summary, Totems of Fortune by Nucleus Gaming offers a mesmerizing and potentially rewarding journey deep into the heart of a Hawaiian volcano. The game's meticulous design, featuring a bamboo-framed shack, intricately detailed symbols, and captivating animations, delivers an immersive visual delight. The unique reel-stopping animation elevates the excitement, ensuring each spin is a thrilling adventure.
The standout feature of Totems of Fortune by Nucleus Gaming is undoubtedly the Totem Free Spins feature, unlocked by the God Kane Scatter symbol. With the potential to unlock up to 20 free spins and the allure of stacked multipliers, Totems of Fortune promises an adrenaline-pumping ride with every spin, whether you do it for fun or a real big win.
While the game's music harmonizes seamlessly with the Hawaiian theme, sound effects do not significantly detract from the game's overall enjoyment.
Whether you're a casual player seeking entertainment or a seasoned enthusiast pursuing substantial winnings, Totems of Fortune by Nucleus Gaming offers a broad spectrum of betting options to cater to diverse budgets. It beckons you to embark on a journey through the mysteries of tribal totems, inviting you to uncover hidden treasures nestled within the volcano's heart.
Step into the realm of the Totems of Fortune slot machine, test your luck and unlock the secrets of your fortune. Best of luck!