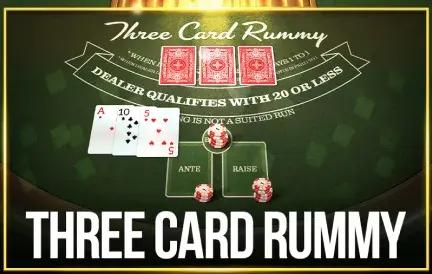 Three Card Rummy, an enticing card game from Betsoft, is a captivating twist on traditional rummy that has been rapidly gaining popularity among card game enthusiasts. With its unique set of rules and engaging gameplay, it stands out as a must-try for those looking for something different in the vast universe of card games.
At the heart of Three Card Rummy is its simplistic yet strategic nature. The goal is to have fewer points than the dealer, and the lower your point total, the better your winning prospects. It's this delightful mix of simplicity and strategy that makes every round a new challenge.
Reasons to Play Betsoft's Three Card Rummy at Red Dog Casino:
Exceptional Graphics: True to Betsoft's style, the graphics are top-notch, ensuring a visually rich gaming experience.
User-Friendly Interface: Players of all skill levels will find the game's interface intuitive and easy to navigate.
Bonus Bets: The game comes with an exciting bonus bet option, increasing the chances of landing big wins.
Smooth Gameplay: With quick load times and glitch-free rounds, players can immerse themselves without any interruptions.
Red Dog Casino provides an ideal platform for diving deep into the fun world of Three Card Rummy. Known for its excellent customer service and a vast collection of games, Red Dog ensures that every session of Three Card Rummy is as enjoyable as the last. Add to this the regular bonuses and promotions offered by the casino, and you have the perfect recipe for hours of entertainment.
In conclusion, Three Card Rummy is not just another card game. It's an opportunity to challenge oneself, to strategize, and to enjoy the thrill of beating the dealer with minimal points. So, if you're ready to take on this challenge, shuffle over to Red Dog Casino and deal yourself a hand. The world of Three Card Rummy awaits!