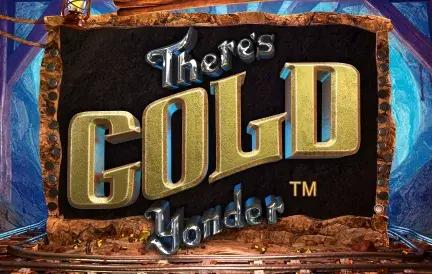 Saddle up and try a thrilling Wild West adventure with There's Gold Yonder by Nucleus Gaming. This game promises an immersive journey into the rugged landscapes of the frontier, complete with dynamic visuals, easy-to-grasp gameplay, and a wealth of exciting bonus features. Whether you're prospecting for gold or just looking for a good time, There's Gold Yonder is your chance to strike it rich in the world of online slots. Let's dive into There's Gold Yonder slot review.
Graphics & Theme
Step into a world where the promise of gold lures fortune seekers from all corners in There's Gold Yonder. This game's dynamic graphics and evocative symbols immerse you in the Wild West, a land of cowboys, saloons, and rugged landscapes. On the reels, you'll find iconic symbols such as cowboy hats, revolvers, dynamite, and, of course, bags of gold. It's a visual journey that gives you a gist of the Wild West.
Gameplay Features
The There's Gold Yonder slots offer accessible and entertaining gameplay features designed to enhance your gaming experience.
Wild Symbol: Keep an eye out for the bag of gold; it is the wild symbol in this frontier land. When it appears on the reels, it can substitute for other symbols, helping you complete winning combinations more easily.
Bonus Game: Land three or more bonus symbols to unlock a special bonus game. Here, you'll run deep into the mine, where you can find fantastic prizes. It's a side quest that adds a thrill to your adventure.
Free Spins: Activate the free spins feature by landing scatter symbols. These symbols add to the party atmosphere and increase your chances of striking it rich during the bonus rounds. Free spins are a fantastic way to boost your potential winnings.
Multiplier Symbol: While there's no specific mention of a multiplier symbol in There's Gold Yonder, the game's bonus features have the potential to multiply your winnings, creating even more significant opportunities for rewards.
Autoplay Option: If you'd rather sit back and enjoy the adventure without manual spins, the autoplay option is available to keep the reels spinning automatically. You can watch the action unfold as you relax in your virtual frontier camp.
Winning The Game
In the world of There's Gold Yonder slots, striking it rich is the ultimate goal. You'll need to adjust your tactics to maximize your chances of hitting the mother lode. Here's a guide to help you secure winning combinations.
Leverage the Reels: There's Gold Yonder boasts 5 reels, each one a potential gold mine. With numerous reels in play, you have opportunities to strike gold. Keep a keen eye on the symbols that land on these reels, as they could be your ticket to fortune.
Master the Paylines: With a total of 25 paylines crisscrossing the reels, this slot offers plenty of paths to securing those all-important winning sequences. Ensure you understand how paylines work, and don't hesitate to bet on multiple lines to increase your chances of success.
Bet Smart: There's Gold Yonder caters to both cautious and high-stakes gamblers. You can start your adventure with bets as low as 1 coin per line, which is accessible to all players. However, if you're feeling bold and believe in your skills, don't shy away from wagering up to 10 coins per line. Betting more can potentially lead to substantial wins, so adjust your bets based on your confidence and budget.
Coin Size Matters: The minimum coin size in this game is 0.01, perfect for players who want to try the world without risking a significant investment. But for those who want to dig deeper, the maximum coin size is 1.00 coin per spin. Betting larger coins can lead to more substantial payouts, so consider your risk tolerance.
Chase the Jackpot: In There's Gold Yonder lies the chance to win a maximum jackpot of 2500 coins. It adds an extra layer of excitement to every spin.
FAQ
Can I play There's Gold Yonder for free?
Yes, the demo version allows you to play There's Gold Yonder online slot for free and experience the game without wagering real money. It's an excellent way to get a feel for the game and its features before you decide to play for real.
Is There's Gold Yonder available for real money play?
Absolutely! You can play There's Gold Yonder for real money at various online casinos that feature Nucleus Gaming's slot titles. Just make a deposit, place your bets, and start your Wild West adventure for a chance to strike gold.
How can I trigger the bonus game in There's Gold Yonder?
You must land three or more bonus symbols on the reels to activate the bonus game in There's Gold Yonder. Once triggered, you'll go into the depths of the gold mine, where you can find hidden treasures and win juicy prizes.
Conclusion
There's Gold Yonder at Red Dog Casino offers an immersive and straightforward gaming experience that transports you to the heart of the Wild West. With its graphics, engaging bonus features, and the allure of striking gold, this slot game guarantees a memorable adventure. Whether you're drawn to its Wild West theme or the potential for substantial wins, There's Gold Yonder by Nucleus Gaming is an online slot machine ready to take you on a journey through the frontier. A great addition is that any player can try it on mobile devices just for fun and then proceed to a real gaming experience. It's time to embrace the Wild West spirit and embark on an unforgettable adventure!