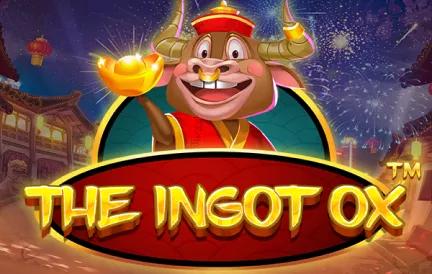 Ingot Ox by Dragon Gaming is back with another combination of festive and fun-filled adventures. This slot is where Chinese New Year's fortune and excitement collide in a whirlwind of spins and wins to give you the adrenaline you need!
This slot game is built on the festive themes of Chinese New Year traditions with lanterns and lotuses, making it just as captivating as it is rewarding. It is built across a 5-reel and 3-row layout that combines to form up to 243 winning pay lines.
If you are anything like us, you'll love the thrill of spinning the reels and chasing those big wins. This Ingot Ox slot review will guide you into further details of this slot machine. So let's dive in together below!
Ingot Ox Design & Theme
Ingot Ox slots are designed based on the captive festive themes of the traditional Chinese New Year. The game's interface contains a massive animated ox clutching an ingot, with multiple lotus trees on both sides of the reels.
The reel design takes an unconventional twist, resembling vibrant purple ropes suspended from a crimson beam. It is set against festive, traditional music that harmoniously accompanies the thrilling reel action.
Reel layout
The reel layout of this slot follows a typical 5x3 pattern with 5 reels and 3 rows. This layout makes it easier for the player to play the game, even if he plays the slots for the first time.
Moreover, this reel layout gives 243 pay lines, which can rise to 576 during the bonus round and land you with big wins and free spins when triggered. All these features make the gambling experience much more fun and exciting for the players.
Ingot Ox Gameplay Features
From its stunning graphics to its unique gameplay features and, of course, the potential for some serious cash prizes, Ingot Ox at Red Dog Casino has all the features of the perfect slot game. Some of the features include
Symbols
The slot symbols of this game are designed to complement its gameplay design. These standard symbols are:
chinese lady with hair rolls;
koi fish;
lantern shaped with pineapples;
Chinese symbol T.
The highest paying of these symbols is the Chinese lady with hair rolls with the maximum prize of 1500x. Although these symbols have a cartoonish look, this hardly affects the attractive appeal of the game.
Wild Symbol
Wild and trigger symbols are the keys to free spins and heavy multipliers. In this case, the wild symbol of Ingot Ox is the show star itself – the Wild Ox!
When this symbol lands on reels 2, 3, or 4, from left to right, with trigger sequences, it triggers a random multiplier that can go as high as x40!
Free Spins
The gameplay features of the Ingot Ox slot are incomplete without free spins. Usually, the trick of free spins is to land 3 or more bonus symbols. You can play Ingot Ox online slot for free with the following free spin combinations:
6 spins at 15x, 30x and 40x multiplier;
9 spins at 10x, 15x and 30x multiplier;
13 spins at 8x, 10x, and 15x multiplier;
15 spins at 5x, 8x, and 10x multiplier;
20 spins at 3x, 5x, and 8x multiplier;
25 spins at 2x, 3x, and 5x multiplier.
Multiplier Features
Ingot Ox has a winning multiplier feature of 1x to as high as 40x. With these multipliers, you'll find yourself on a unique 3x4x4x4x3 reel grid, expanding the potential winning combinations to an impressive 576 in free spins.
How to Play the Game?
The playing pattern of IngotOx follows the typical playing structure of slot games. Like all other games, you must select the playing options and press the play option to start.
If you are a beginner, you can use these steps to customize your gameplay and then play Ingot Ox for real money:
adjust your coin value;
select the betting value;
select your playing package;
enjoy.
You can also play the game with an autoplay feature that gives you up to 1,000 free automated spins. However, autoplay mode is not available on the demo version. 
The slot also contains a "Max bet" option that automatically sets your playing settings to max bet. This feature needs manual activation to play.
FAQ
Can I play the Ingot Ox slot on my mobile phone?
The Ingot Ox slot can be easily played on a mobile phone. Multiple operating systems support this slot, including Android, IOS, and others.
What is the RTP of the Ingot Ox slot game?
The RTP rating of the Ingot Ox slot game is as high as 95.73%. This rating shows that the game is quite popular among slot players.
What is the maximum and minimum betting requirement of the Ingot Ox slot?
The betting range of the Ingot Ox slot ranges from as low as 50 cents to as high as 50 dollars. You can use any amount you like to play this game for fun.
Conclusion
The Ingot Ox slot aligns with the Chinese New Year theme and has high volatility, making it a popular option among players. Moreover, wins with this slot are great fun due to many exciting features.