The 7th Element Video Slot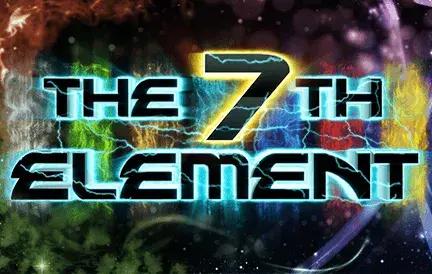 Embark on an otherworldly journey with The 7th Element by Saucify, an online slot game that seamlessly melds the wonders of space with elements from Chinese mythology. This visually stunning game takes players on a cosmic adventure that promises stunning graphics and captivating gameplay.
The 7th Element is a cosmic odyssey where space and mysterious Chinese mythological elements collide, offering a unique twist on traditional slot games. All wins can pay from left to right or right to left, with Scatter symbols offering rewards in any direction. Payline wins are multiplied by credits wagered per line, while Scatter wins are multiplied by the total credits wagered. Scatters provide an additional opportunity to win, enhancing the excitement of every spin. It's important to note that only the highest win from both directions is paid on each active payline, intensifying the anticipation. Also, it is a nice gesture by Saucify to include a demo mode that lets you play The 7th Element online slot for free, which we highly appreciate.
In this The 7th Element slot review, we'll explore the game's features, symbols, and bonuses that contribute to the game's overall experience. Prepare to blast off into a universe where magical elements promise astronomical wins. Join us as we delve into the cosmic mysteries of The 7th Element.
Across the Sea of Space 
The 7th Element is a game that immediately immerses players in a mysterious and vibrant cosmic world. The game's background features a breathtaking galaxy, a swirling mélange of vivid purples, blues, and pinks, which sets the perfect stage for the interstellar journey. This celestial backdrop provides an ever-changing canvas as you spin the reels, creating a mesmerizing and dynamic atmosphere.
The reel icons in The 7th Element slot machine are a true testament to the artistry behind the game. With mystical and alchemical vibes, these symbols are far from the conventional slot icons you might expect. In fact, you won't find any traditional bars or fruit here. Instead, you'll encounter a captivating array of unique symbols with distinct appearance and feel. And you've guessed it, all of them are the eponymous elements. These symbols are visually stunning and perfectly aligned with the game's space and Chinese mythology theme.
Every spin in The 7th Element slots is a visual feast, and the extraordinary symbols and galaxy background create an immersive gaming experience that's second to none. Whether you're a fan of slot games or simply appreciate exceptional art and graphics, The 7th Element is a visual delight that's not to be missed.
Astronaut-Alchemist Crash Course  
Wild Symbol - Double High 
The 7th Element at Red Dog Casino introduces a powerful Wild symbol represented as Double High. This symbol plays a pivotal role in enhancing your winning potential. 
Substitution. The Wild symbol is incredibly versatile, as it can substitute for any symbol on the reels except for the Scatter symbol. This substitution feature helps complete winning paylines by standing in for missing symbols, increasing your chances of landing winning combinations. 
Win Doubling. What makes the Wild symbol even more exciting is its ability to double your winnings when contributing to a winning combination. Any win that includes the Wild symbol is instantly doubled, making it a valuable symbol to look out for during your gameplay. 
Scatter Feature 
To unlock the 'Crystal Of Fortune' feature game, you must land three or more Feature symbols anywhere on the reels. However, it's important to note that the Scatter symbol does not appear during Free Spins. 
The number of Feature symbols you land will determine the additional bonuses you receive: 
3 Feature symbols trigger the 'Crystal Of Fortune' feature and grant 1 Free Spin; 
4 Feature symbols activate the 'Crystal Of Fortune' feature and provide 3 Free Spins;
landing 5 Feature symbols will initiate the 'Crystal Of Fortune' feature and reward you with 5 Free Spins.;
'Crystal Of Fortune' Feature
Once you've entered the 'Crystal Of Fortune' feature, you'll have the opportunity to choose an Elemental Orb from a selection of Elemental Prizes in each round. These prizes can consist of either additional Free Spins or a Free Spin Multiplier increase. 
Your selected Elemental Orb's prize will be immediately applied, and Free Spins will trigger following the feature, allowing you to enjoy the benefits of your chosen prize. The 'Crystal Of Fortune' feature adds an extra layer of excitement and reward to your gaming experience, making every Free Spin count in your quest for cosmic riches.
FAQ 
What can the best-paying combination get me? 
The maximum possible win is 101,250 coins, which is truly astronomical!
What is the 'Crystal Of Fortune' feature, and how does it work? 
The 'Crystal Of Fortune' feature allows you to choose an Elemental Orb, which can award additional Free Spins or a Free Spin Multiplier increase. The selected prize is immediately applied, and Free Spins follow.
Can I become a space alchemist using my phone or tablet? 
Thanks to HTML5 technology, The 7th Element runs seamlessly on personal computers and mobile devices like phones and tablets, ensuring players can savor the spinning reels wherever they are.
Summing Up 
The 7th Element by Saucify is a celestial masterpiece. This online slot game's stunning visuals and innovative gameplay redefine the genre, offering 49 paylines and unique rules, including wins from both directions. The art and graphics are nothing short of mesmerizing, with a galaxy backdrop and intricate, mythological symbols that stand out despite traditional slot icons. Fuel your spaceship - it's time to go even further beyond and spin the 7th Element for some real money, or try it for fun!