Tails Of New York Video Slot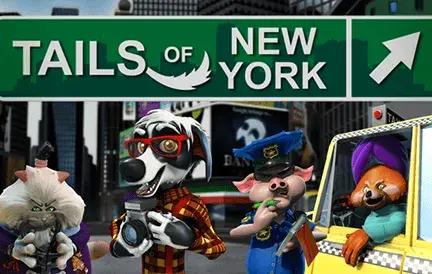 Embark on an urban adventure with Tails Of New York, a delightful slot game that offers a unique twist on the bustling life of the Big Apple. Exclusively available at Red Dog Casino, this slot machine narrates the charming tales of the city's furry inhabitants.
From the outset, Tails Of New York paints a vibrant picture of New York City through the eyes of its animal residents. The reels bustle with endearing characters like the savvy tabby journalist, the hot dog vendor bulldog, and the pigeon photographer. A backdrop of iconic NYC landmarks, with fire hydrants and yellow cabs, enhances the cityscape narrative. A jazzy, upbeat soundtrack sets the mood, echoing the city's vivacious energy.
Discover the captivating features of Tails Of New York:
The 'NYC Taxi' scatter symbols, speeding you towards exciting bonus rounds.
Wild symbols represented by the dashing camera-toting fox, snapping opportunities for bigger wins.
Free spins unveiled by the wise owl newsreader, spotlighting potential jackpot news.
The 'Central Park Picnic' bonus game, a delightful feast of choices and rewards.
As a slot machine, Tails Of New York stands out with its unique theme and engaging gameplay. Its intuitive interface ensures that both New Yorkers and those unfamiliar with the city can navigate the urban jungle with ease. Coupled with a competitive RTP, the game promises fun-filled spins and potential jackpot stories.
In essence, Tails Of New York is a celebration of the vibrant life of NYC, with a whimsical twist. It ingeniously merges the allure of city life with the enchantment of its animal tales. For players looking for a fresh gaming narrative or a virtual tour of the Big Apple, Tails Of New York is the ticket. And the recommended boarding gate for this urban adventure? None other than Red Dog Casino.
Strap in for this city ride, and may your spins echo the rhythm of the New York heartbeat!