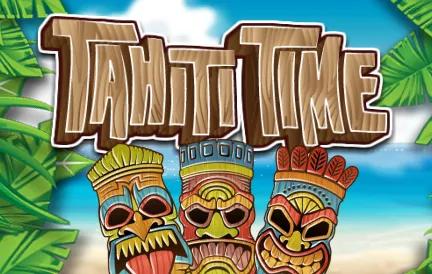 We know how hard it can sometimes be to live in the city. Permanent traffic, noise, air pollution, endless tasks, and social activity take the lion's share of our energy. And here you are, standing in front of the mirror, asking yourself, "What is all this for?" waiting for an answer. Luckily for you, we've got the right one! So it's time to pack your swimming shorts, sunglasses, and flip-flops in a suitcase, grab the ticket and take off to Tahiti, an earthly paradise where nothing can disturb you and annoyance simply doesn't exist!
Sounds good, right? And this is precisely how playing Tahiti Time by Rival feels every time you spin those exotic reels. Even though there aren't as many unique features as we are used to see in slot games, this 3-reel, 1-payline slot machine is made to bring you the peace of island life topped up with juicy winnings. After all, what can be better than lying on the beach in the shadows of palm trees while sipping on some freshly made cocktails? Read this Tahiti Time slot review until the end and find out about all the extra benefits that await you!
Theme & Design
The loading process ends, and you find yourself beside the ocean side on a vibrant sunny day where you can see beautiful ocean scenery through the frame of a little wooden beach shed. The fully transparent reels reside right in the middle of the screen, allowing you to enjoy the view while you spin them. Cocktails, ukuleles, Tiki heads, pineapples, hibiscus flowers, bar, double bar, and triple bar icons represent reel symbols.
Speaking of visual aspects, you'll be satisfied with how they turned out. The mixture of fluid animation and well-designed and detailed art allows your eyes to rest and be concentrated simultaneously. Then we add the vivid color selection as the icing on the cake, and you have a spectacular slot machine that's sure to grant you an unforgettable time playing. But if you think these components are the only ones that create the atmosphere, you're far from the truth because the sound designers also did a little trick here. To get the whole experience, listen closely to the soothing ambient sounds of the ocean waves and feel the tranquility getting over you.
Core Gameplay & In-Game Extras
Get into the groove of Tahiti Time, where ukulele icons will keep you entertained as the game's Free Spins symbol that comes along with a 3x multiplier. If you manage to land 2 guitars, you'll get 5 free spins. But with 3 guitars, you'll win 20 free spins to benefit from.
In the main game and Free Spins round, line up 3 matching icons of triple bars to win 30 to 90 coins, while double bars pay 20 to 60 coins, and single bars pay 10 to 30 coins. A mixed bar line can get you 2 to 6 coins. Next, raise a glass of cocktail with wins of 40 to 120 coins, squeeze more juice out of pineapples and coconuts at 60 to 180 coins, and flaunt the flower garlands to win from 80 to 240 coins.
The mood of the Tiki Heads can make or break your day, with sad Tikis paying 200 coins to 600 coins and smiley Tikis paying 400 to 1,200 coins. Grumpy-faced Tikis can make you feel as grumpy as them, but they pay a whopping 2,500 to 7,500 coins, so their lousy mood is justified.
FAQ
Is there an opportunity to play Tahiti Time online slot for free?
Of course. If you want to play just for fun before placing wagers and playing Tahiti Time for real money, you need to log out of your account and choose the demo version.
What is the biggest payout in Tahiti Time?
The maximum jackpot in this exotic slot game equals $75k.
Can I play Tahiti Time at Red Dog Casino using my smartphone?
For sure! Our casino provides players with a mobile version that can be accessed from almost any Android and iOS-based device. Since it's fully responsive and adaptive, it's sure to match any screen size. This way, you can enjoy your favorite games from your smartphone or tablet anywhere.
Verdict
Considering everything aforementioned, we can end this review with a positive conclusion. Even though this game cannot boast many unique features or dynamic gameplay compared to other Rival fruit machines, Tahiti Time slots will surely bring you a soothing and relaxing gaming experience. It is a nice alternative to those where you rush at breakneck speed through the flashing lights of endless animations and masses of distractions that come along the way. The title says it all. So rest in your armchair with a juice cocktail and spin the reels quickly and confidently.