Swinging Sweethearts Unified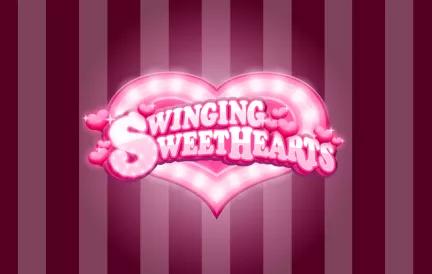 The captivating online slot game Swinging Sweethearts by Rival Gaming is a delightful combination of romance, glitz, and thrilling gameplay that will keep you entertained for hours. Get ready to be a part of a glamorous world filled with love, excitement, and big winning opportunities.
Behind its charming aesthetics, Swinging Sweethearts slots boasts a dynamic and engaging gameplay experience. With its five reels and twenty paylines, the game offers ample chances to win big.
In addition to its aesthetic appeal, Swinging Sweethearts features an array of exciting bonus features that can boost your winnings. Watch for the game's Wild symbol, which can substitute for other symbols to form winning combinations. The Scatter symbol holds the key to unlocking the coveted free spins round, where you can enjoy even more chances to hit it big.
Get ready to embark on a romantic adventure with Swinging Sweethearts as we dive deeper into its gameplay, bonus features, and overall charm. Besides the unique atmosphere, the game offers:
simple rules;
5 reels;
50 paylines;
1-10 coins bets;
Jackpot of 9999 times the wager!
Graphics and Design
As the name suggests, Swinging Sweethearts at Red Dog Casino takes players on a nostalgic journey back to the golden era of swing music and classic romance. The game's vibrant and visually stunning design instantly immerses you in a retro atmosphere, complete with stylish vintage symbols, elegant fonts, and a backdrop reminiscent of a nineties dating show combined with a glamorous dance floor. Whether you are a fan of the swing era or enjoy a touch of nostalgia, this slot will undoubtedly capture your heart.
The reels are adorned with various symbols that perfectly encapsulate the theme, including elegant roses, heart-shaped chocolate boxes, and, in a sudden twist of events, the TV host from the game's intro animation. The accompanying soundtrack further enhances the experience with catchy swing tunes that make you want to tap your feet as you spin the reels.
Basic Rules and Gameplay Mechanics
There are both common and unique symbols in the set. You will encounter chocolate boxes, rings, toasters, women, men, and traditional playing cards while playing Swinging Sweethearts slots online for free or with real money.
The blonde woman serves as the Wild symbol, which can be used to create winning combos by substituting for all other symbols excluding the Scatter. Additionally, the lovely Wild will multiply victories during the ordinary game by four.
The mask symbol initiates the bonus free spins game, which serves as the Scatter. The Free Spins feature will be activated if you receive 3 or more masks: x3=15 Free Games, x4=15, and x5=15 Free Games. The player will receive a Swinging Free Spins Bonus if he wins the Bonus feature during these Free Games! If you use the Bonus mode while the Free Spins option is active, your earnings will be increased by 12!
For gamers who love a wide selection of Bonuses and Free Spins with good multipliers, represented video slots are a fantastic possibility. Don't pass up the opportunity to try it and earn from your time, thus!
FAQ
Can you play the Swinging Sweethearts online slot for free?
If you feel uncomfortable playing Swinging Sweethearts for real money from the get-go, you can always try it in a free demo mode so generously offered by Rival. You can access it from the game selection screen or the options menu if you have already launched the game.
What is the best platform to play Swinging Sweethearts?
Any modern platform, including mobile phones, tablets, and computers or laptops, can run the game smoothly as Rival has optimized it to work on any modern browser, eliminating the need to download and install anything before your gaming session maximizing your potential for fun!
Where is the game featured on the Red Dog Casino Website?
The Red Dog Casino's range of games includes Swinging Sweethearts in the slots section by selecting the above category or simply typing the game's name into the search field.
Verdict
In conclusion, Swinging Sweethearts slot machine is a captivating online slot game that effortlessly combines romance, nostalgia, and thrilling gameplay. With its charming retro aesthetics, dynamic features, and immersive soundtrack, this game offers an unforgettable experience for players seeking both entertainment and big wins. Whether you're a fan of retro TV shows or love a touch of vintage glamour, Swinging Sweethearts will show you a world of love, excitement, and endless possibilities. So, put on your Sunday best, spin the reels, and let the Swinging Sweethearts guide you toward a delightful journey filled with fortune and enchantment.