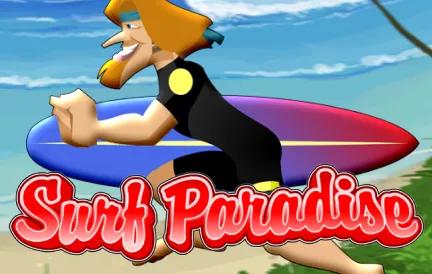 Surf Paradise is an online slot game developed by Rival Gaming that takes players on a journey to the sun-soaked beaches of a tropical paradise. This classic slot machine features a retro design, with vibrant graphics and an engaging beach theme that harks back to the golden era of slot gaming with lavish scenery reminiscent of the Miami dream. With its simple gameplay, straightforward mechanics, and relaxing soundtrack, Surf Paradise promises an enjoyable experience for new players and seasoned slot enthusiasts. In this review, we will delve into the critical aspects of the game, exploring its features, gameplay, and visual appeal.
Golden Sand, Sapphire Waves, Azure Sky, and Green Palm Trees
You'll be transported to the surfer's paradise as soon as you turn on the game, where palm trees are bending under the weight of an offshore breeze, and waves are lapping on the beach amid the screams of happy seagulls. You can also hang out at the surf shack, where the specialties menu lists all the goodies you can win that day. Depending on how the current flows, reef, point, and beach break, they all may be on the menu. You can win waves and waves of rewards by aligning some massive waves, surfboards, and other prize icons.
Classic slot machine symbols like cherries, surfboards, and coconuts enhance the game's nostalgic charm. The 2D graphics are colorful and pleasing, capturing the essence of a laid-back beach vacation. While the visuals may not boast the latest cutting-edge graphics, the retro-style design complements the game's theme perfectly, appealing to players who appreciate the simplicity of traditional slot machines.
How to Ride the Waves in Style and Make some Buck while Playing Surf Paradise for Real Money
The first thing you must choose is how challenging you want the competition to be; nevertheless, remember that the higher the entry price, the larger the rewards are up for grabs. You can choose to enter the 1-coin or the 2-coin competition, and while the 2-coin awards are essentially double those of the 1-coin competition, the top prize also comes with a 500-coin bonus. You may also alter your coin values to range from 0.01 to 25, allowing you to wager as little as 0.01 coins or as much as 50 coins every spin. Set the auto-play feature so that you can continue surfing the waves without interruption.
During every surfing match, you can also strike the bar. Triple bars will earn you 50 to 100 coins, double bars 40 to 80 coins, and single bars 30 to 60 coins. With prizes of 5 or 10 coins, mixed bars will also keep your entrance fees rolling in.
To keep yourself going until those big waves have your name on them, you'll also need to pick up a few extra surfboards in case rocks await you. Three surfboards will net you 15 or 30 coins, while two and one will net you 3 or 6 coins, respectively.
FAQ
If I enjoyed Surf Paradise at Red Dog Casino, what additional slots would you suggest?
On our website, you may play additional Rival Gaming games with a variety of topics if you like this one, including:
Chicken Little;
Roll out the Barrels;
So 80's;
Cirque de Slots.
Are there many unique features included in Surf Paradise?
Surf Paradise at Red Dog Casino stays true to its classic nature by keeping the gameplay straightforward without any complex bonus features or wild symbols. While some might yearn for more exciting elements to enhance the gameplay, other players may appreciate the simplicity.
Is there a mobile version of Surf Paradise at Red Dog Casino?
You don't need to worry about utilizing any modern device to run Surf Paradise slots, including your mobile phone, as long as it has the most recent software.
One of the Best Summer-Themed Slots
Surf Paradise by Rival Gaming is an ode to the classic slot era, bringing the nostalgia of vintage beach vacations to the online gambling world. With its simple gameplay, vibrant visuals, and beach-inspired soundtrack, the game provides a relaxing and enjoyable experience for players seeking uncomplicated entertainment. While it may not have the bells and whistles of modern video slots, Surf Paradise's simplicity and mobile compatibility make it an appealing choice for new and experienced players.
The game may not have a demo mode that allows users to play Surf Paradise online slot for free, but with such simple rules, it is not an utmost necessity, and you are guaranteed hours of gaming for fun. So, if you're in the mood for a laid-back beach adventure, grab your surfboard and dive into the world of Surf Paradise.