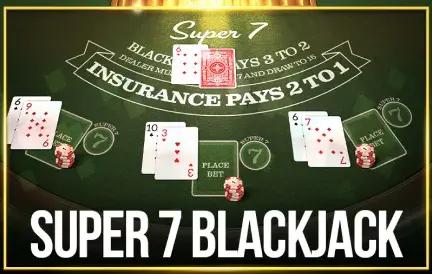 Venturing into the world of online blackjack variations, Nucleus presents Super 7 Blackjack – a delightful twist on the classic card game. Available at top-tier online venues like Red Dog Casino, this version of blackjack invites players to dive deeper into strategic plays and potential rewards.
Distinguishing Super 7 Blackjack from its traditional counterpart are these enticing attributes:
Super 7 Side Bet: The highlight of the game, this feature allows players to place a side bet on receiving a seven as their first card. The payouts escalate if more sevens follow, with the most lucrative rewards for three consecutive sevens of the same suit.
Top-Tier Graphics: Staying true to Nucleus's reputation, Super 7 Blackjack boasts pristine visuals. The design is sleek, with detailed card representations, ensuring players are engrossed from the first deal.
Intuitive Gameplay: The game offers a seamless playing experience. Whether you're a blackjack novice or a seasoned pro, the interface is easy to navigate, with all game options clearly outlined.
Live Dealer Experience: Enhancing the game's allure, Nucleus offers a live dealer variant for Super 7 Blackjack. Players can revel in the excitement of real-time interactions with experienced dealers, bringing an authentic casino vibe to their screens.
Standout Features of Super 7 Blackjack:
Unique Super 7 side bet opportunity
Impeccable graphics and sound quality
Fluid, user-friendly gameplay interface
Real-time live dealer option for an enriched experience
In conclusion, Super 7 Blackjack by Nucleus is more than just another blackjack game; it's an adventure packed with opportunities and thrilling gameplay mechanics. For players seeking a fresh blackjack experience with added layers of strategy, Red Dog Casino's offering of Super 7 Blackjack is a must-try. Ready to chase those sevens? Dive in and enjoy the thrill!