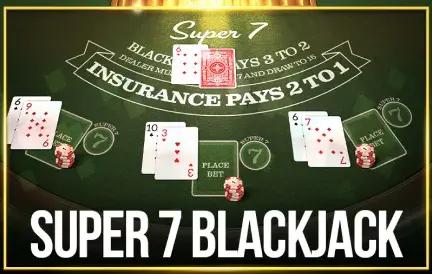 Betsoft's Super 7 Blackjack adds a modern twist to a time-honored classic, providing an invigorating gaming experience for blackjack enthusiasts. Players looking for this riveting version of blackjack need look no further than Red Dog Casino, a premium destination for top-tier casino games.
So, why is Super 7 Blackjack causing such a buzz in the gaming community?
The Super 7 Side Bet: At the heart of the game lies the captivating Super 7 side bet. Players have the enticing opportunity to place a side bet that the first card they receive will be a seven. The rewards become increasingly tempting if more sevens follow, with a jackpot for three sevens of the same suit.
Betsoft's Craftsmanship: True to form, Betsoft ensures that Super 7 Blackjack shines in its aesthetics. The design is sleek, with intricate card details and ambient sounds, making players feel like they are right in the middle of a luxury casino.
Seamless Play: The game guarantees a smooth experience, ensuring that the focus remains on strategy and enjoyment. Every element, from placing bets to choosing to stand or hit, flows effortlessly.
The Live Dealer Experience: Elevating the entire gameplay, Betsoft offers a live dealer variant for Super 7 Blackjack. Players can revel in real-time action, bringing the charisma of a physical casino right to their screens.
Key Highlights of Super 7 Blackjack:
Alluring Super 7 side bet option
Exceptional graphics and soundscapes for immersive play
Uncomplicated, fluid gameplay mechanics
Live dealer feature to enhance realism
In conclusion, Super 7 Blackjack by Betsoft is a fusion of tradition and innovation. It captures the essence of classic blackjack while introducing exciting new elements. Those with an appetite for top-notch blackjack gaming will find Red Dog Casino to be the perfect venue. So, are you up for the Super 7 challenge? Dive in, and may the sevens be with you!