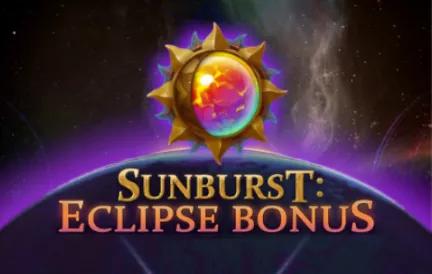 Journey to the cosmic realm with Sunburst: Eclipse Bonus by DiceLab, a dazzling slot game full of celestial treasures waiting to be discovered! Orbit through space, where sparkling jewels align with stars and magnetic fields guide you to astronomical wins. With radiant visuals and smooth gameplay, this game combines the mystery of the cosmos with the allure of precious stones. 
Ready to embark on a galactic treasure hunt? Your space shuttle awaits and is about to transport you to a place where the universe is your playground and fortune shines as bright as a supernova! A more in-depth look can be found below, so thoroughly read our Sunburst: Eclipse Bonus slot review, and let's begin! 
Theme & Design
The theme of this game flawlessly intertwines the glimmering allure of gemstones with the boundless mystery of space, creating a thrilling cosmic fusion that players will love to be part of. 
Set against a dark gray backdrop, the reels come alive with bright, multi-colored gems. Purple, blue, red, green, and yellow stones shine like distant stars, captivating the eye and promising otherworldly rewards. 
But the animations genuinely make this slot machine a stellar experience. Watch as the gems glisten, twinkle, and reels spin with life-like motion. The result is a visually stunning spectacle that perfectly aligns with the game's cosmic theme. Sunburst: Eclipse Bonus slots are a gem in the galaxy of slot games. It's a cosmic journey that will leave you starstruck and craving for more, one spin at a time. 
Core Gameplay & In-Game Extras
The minimum and maximum bets in this slot game are $0.1 and $100, accordingly, and the RTP rate equals 96.5%. Now let's break down the main symbols and discover their worth. 
| | | | |
| --- | --- | --- | --- |
| Symbol Name | X3 | X4 | X5 |
| Purple stone | $ 0.50 | $ 1.00 | $ 2.50 |
| Blue stone | $ 0.50 | $ 1.20 | $ 3.00 |
| Red stone | $ 0.70 | $ 1.50 | $ 4.00 |
| Green stone | $ 0.80 | $ 2.00 | $ 5.00 |
| Yellow stone | $ 1.00 | $ 2.50 | $ 6.00 |
| Seven | $ 2.50  | $ 6.00 | $ 12.00 |
| Bar | $ 5.00 | $ 20.00 | $ 30.00 |
Regarding special features, there are only a couple of extras to expect. Nevertheless, they will grant you an enthralling experience and help you strike rich! 
You can perceive it as a rest from other DiceLab action-packed slot machines and enjoy smoothly flowing gameplay. 
Wild Symbol — is everyone's all-time favorite. In this game, it appears on reels 2, 3, and 4, and substitutes for all other symbols, expanding the entire reel and triggering the respin. The maximum number of respins is 3. 
Eclipse Bonus feature — spin the wheel and get a chance to win substantial cash prizes ranging from $50 to $1.200! You must land 5 special highlighted symbols on a line to trigger this feature. And remember, you have only 1 attempt to spin the wheel! 
FAQ
How many reels are in Sunburst: Eclipse Bonus?
The 5 reels and 3 rows create a playground, while the 10 paylines provide wide opportunities for winning combinations.
Can I play Sunburst: Eclipse Bonus online slot for free?
Absolutely! Feel free to dive into any slot game, this one included, by using the free demo version. It's a perfect way to get a feel for the game, hone your skills, or play for fun. When you're ready to up the stakes, switch to full mode and take your chances playing Sunburst: Eclipse Bonus for real money!
Can I use my smartphone to play Sunburst: Eclipse Bonus at Red Dog Casino?
Yes, of course! Our casino takes pride in offering a fully responsive and adaptive mobile version compatible with nearly any device running on Android or iOS. Whether on a smartphone, tablet or anything in between, our platform ensures a seamless fit to your screen size.  
What's more, we've optimized the user experience to bring the excitement of the casino floor right to your fingertips, providing an electrifying gambling experience no matter where you are. 
Conclusion
In the vast galaxy of slot games, this game emerges as a radiant satellite. Its cosmic theme seamlessly integrates with a palette of precious stones, providing an entrancing visual appeal. Glimmering with various colors, the reel symbols offer not just a game but a celestial exploration. The animations add finesse, turning each spin into a journey through space. 
The game's strong sides include:
its creativity in theme;
brilliance in design;
the subtle balance it strikes between complexity and accessibility.
If you're ready for a slot experience out of this world, Sunburst: Eclipse Bonus is calling!