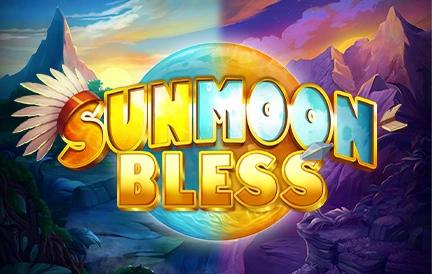 How often do you want to become part of the tribe and experience wildlife in a deep forest, hunting for food and surviving? How about getting all this without leaving the comfort of your home? SunMoonBless by DiceLab offers you this chance. Ready to join the tribe and talk to the spirit of the Sun and Moon to get a blessing for a jackpot?
Theme & Design   
In this 5x3 slot game, you'll teleport to a valley, where you'll become part of an ancient civilization, hunting for food, befriending the bears and wolves, and trying to read the Sun and Moon to know when it's the perfect time to spin and win. With funky music in the background, you can fully immerse yourself in the experience.
Gameplay Features   
But let's talk about each game's features now. Here are the main things you should know to win the slot game. 
The Sun is the Wild, it substitutes for all symbols except for the Moon. It pays $1.25 for x2, $12.50 for x3, $25 for x4, and $75 for x5. 
The Moon is also the Wild; it substitutes for all symbols except for the Sun. It pays the same as the Sun Wild. 
Sun & Moon Bless is when two Wilds combine on the reels. Any mix of them pays $5 for x3, $15 for x4, and $37.50 for x5 
Wild Spirit Free Spins — when 2 or more Sun Wilds or Moon Wilds appear on consecutive reels starting from the 1st one, you can obtain the Wild Spirit Free Spins. All Free Spins are full of all-wins multipliers. A Multiplier will be chosen randomly for each Free Spin and applied to all Spins' winnings. The possible Multiplier you can get are x2, x3, and x5. The amount of Free Spins depends on Sun and Moon Wilds. 2x Moon or Sun Wilds brings you 5 Free Spins, 3x - 10 Free Spina and $2, 4x - 25 Free Spins and $20, 5x - 50 Free Spins and $50. Free Spins can be re-triggered unlimitedly. 
Winning the Game   
The game offers a remarkable RTP of 96.12%, ensuring players stand a solid chance of winning across 20 paylines. Here's a couple of tips that will help you win at SunMoonBless: 
keep an eye on the Sun and Moon Wilds; 
profit from the Sun & Moon Bless; 
trigger Wild Spirit Free Spins.   
FAQ   
Can I play SunMoonBless slots on my mobile phone?   
Yes. While Red Dog Casino does not offer a mobile application, players are welcome to access the game and play SunMoonBless online slot for free or for real money from their browser. 
Why should I choose SunMoonBless for real money at Red Dog?   
Red Dog is a great platform if you want to play the game for fun in a demo version or enjoy it for real cash. Red Dog Casino constantly offers bonuses and promotions for various games, allowing players to get the most out of their online gaming.
What is the RTP of the SunMoonBless slot machine? 
The RTP (Return to Player) rate of SunMoonBless at Red Dog Casino is 96.12%.
Conclusion   
Here you have it, our SunMoonBless slot review. 
Not only will this game transport you to a realm of ancient wonders, but it will also ensure an engaging and potentially rewarding gaming experience. Its captivating theme and enticing features make it a journey worth taking. Embrace the wild from the comfort of your home and let the spirits of the Sun and Moon guide you to jackpot glory. SunMoonBless awaits, inviting you to spin, win, and revel in the magic of the virtual tribal adventure!