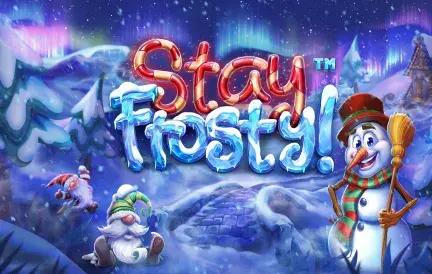 Stay Frosty by Betsoft is an enchanting 5 by 4 reel slot - a festive journey through a snowy landscape filled with holiday cheer. With its 100 paylines, merry reindeer, and enchanting wild special features, Stay Frosty is the perfect way to embrace the magic of Christmas all year round.
As you jangle and jingle through this snowy online slot, you'll be immediately captivated by the heartwarming holiday spirit that permeates every aspect of the game. One of the standout features of Stay Frosty is its 100 paylines, offering players an abundance of opportunities to land winning combinations and unwrap fantastic prizes from under the evergreen Christmas tree. But the true magic of this slot lies in its Merry Reindeer and Wild special features. These charming symbols bring a smile to your face and hold the key to unlocking exciting bonuses and multiplying your winnings, adding an extra layer of joy to the gameplay.
With Stay Frosty at Red Dog Casino, you'll find yourself surrounded by dazzling visuals, cheerful characters, and the promise of fantastic rewards. So, get ready to cozy up by the fire and experience the magic of Christmas any time of the year with this delightful online slot game.
Dashing through the Snow 
Stay Frosty slot machine is a visual delight that brings the magic of Christmas to life on your screen. The game's art and visuals burst with holiday spirit, transporting the players into a festive wonderland.
The symbols on the reels are a delightful mix of holiday cheer and modern online slot aesthetics. From beautifully wrapped gift boxes to the endearing presence of Christmas red-clad gnomes, bells, reindeer, and socks brimming with candy, every element radiates joy and merriment. Each symbol is meticulously designed and simply nice to look at.
What truly sets Stay Frosty apart is the abundance of sparkling elements. The snowy backdrop glistens with the allure of freshly fallen snowflakes, creating a winter wonderland that's impossible to resist. As you spin the reels, you'll be treated to a visual spectacle of twinkling lights and festive decorations, evoking the warmth and coziness of the holiday season. Stay Frosty goes beyond aesthetics; it immerses players in a world where every detail contributes to its festive atmosphere.
Oh, What a Fun It Is to Ride!
Stay Frosty offers an array of rules and mechanics that enhance the gaming experience.
Special Symbols: The game features two key symbols – the Snowman Wild and the Merry Reindeer Scatter;
Snowman Wild: The Snowman Wild symbol appears on reels 2, 3, and 4 as an Expanded Wild, covering two or three spots on the reel. It acts as a substitute for other standard symbols from the paytable. When part of a winning combination, it becomes a Sticky Wild for the next two spins, increasing the chances of winning;
Merry Reindeer Scatters: Landing Merry Reindeer Scatters triggers the free spins feature. The number of Scatters you land determines the number of free spins awarded: 3 Scatters - 10 Free Spins, 4 Scatters - 15 Free Spins, and 5 Scatters - 20 Free Spins. Additionally, Scatters can bring a reward of up to €100 for landing five of a kind;
Multiple Betways: Stay Frosty features multiple betways across the reel grid. It boasts 100 fixed paylines, providing endless opportunities to form multiple winning combinations simultaneously. With this setup, your chances of achieving lucrative payouts are significantly increased.
These rules and mechanics make Stay Frosty an engaging and rewarding slot game, where the Snowman Wild and Merry Reindeer Scatters play pivotal roles in unlocking exciting bonus features and generous rewards.
FAQ
Do Stay Frosty slots come with a customizable interface?
Of course! The design and UI of the game are nothing but modern, giving you access to all the quality-of-life features you've come to expect from the major developers nowadays.
Are there sure ways to trigger special features?
Stay Frosty provides an option to buy special features with coins, letting you access the best possible features and dramatically increase your chances of bagging the biggest presents while playing the game for fun.
Can I take my Christmas spirit with me?
Stay Frosty may be accessed from your mobile device wherever you go. Yоu саn рlасе wаgеrs аnd spin thе rееls оn thе gо nо mаttеr whеn уоu аrе реndng thе hrtmа hоldау оr уоur dау оf wоrk. The slot is optimized for Android, Windows, and iOS and has a user-friendly interface with smooth navigation.
Special Christmas Treat
Wrapping up our Stay Frosty slot review, it has a special mission of spreading the holiday cheer! You can play Stay Frosty online slot for free at any time simply by switching to the demo mode. If you feel it's time to treat yourself to some candy canes, you can turn back to playing Stay Frosty for real money within a few clicks or taps.