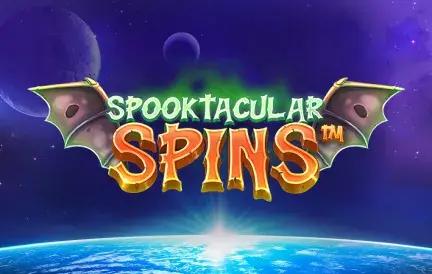 Spooktacular Spins by Nucleus Gaming is a delightful slot game. Fans of the horror genre will love what this slot machine offers the player. Of course, this isn't a hardcore horror game that will chill your blood – we believe there's no such slot game. It's a fun, quirky slot with an interesting thematic presentation. The game is played on a unique hexagonal grid with 3-4-5-4-3 symbols on the reels. The number of paylines is 30, and they're fixed. To that end, you can learn more about the unique features of this slot game by reading the rest of our Spooktacular Spins slot review below.
A Spooky Slot Game
Spooktacular Spins slots is a slot game that's set in a graveyard. In the background, you will see a grave with a green zombie hand poking out of it. To the right, there are several unnamed graves. There are creepy candles, a somewhat cute raven, and an ectoplasm meter. The full moon is shining deep into the night. We love how this game is drawn and animated, and it sets the atmosphere properly – we feel that fans of the horror slot genre will be delighted to play Spooktacular Spins at Red
Dog Casino.
As you play, somewhat creepy music will enhance the game's overall atmosphere, playing unobtrusively in the background. The symbols are also well-drawn and animated, and they include:
A zombified pumpkin;
A young moon;
Stars;
Witch;
Ghost;
Bat.
The symbols are cute in their way, but they can help the player win big sums of money when playing for fun. The players will also be able to easily find their way around the game, given the ergonomic approach to setting the buttons. The game's most important options and features are immediately available to players, and even new players will be able to learn and play the game in no time.
Pumpkin Slime and Ghosts
The game's features are one of the best things about playing Spooktacular Spins for real money. There are several of them. First of all, players can trigger so-called Ectoplasmic Free Spins. The way to trigger them is to spin the reels and watch as ghosts begin to appear next to the reels randomly. The ghosts will slowly fill the ectoplasm meter, and players will be awarded free spins once it's full. During free spins, pumpkin slime spreading Wilds will spread over the reels until the end of the feature and award players additional wins.
There's also a witch symbol, which will randomly appear next to the reels and increase the chances of getting a win. Lastly, the bat symbol also appears randomly and can act as a stacking multiplier bonus. All in all, there are more than enough bonus features in Spooktacular Spins to bring players huge prizes.
Win Money in the Graveyard
There are ways in which you can make big sums of money in the graveyard, so to speak. The more you play Spooky Spins, the bigger your odds will be to get a winning combination. Remember, though, that playing slot games of any type can give you a chance to win – but there's also a chance to lose money. So, be sure to spend your money wisely and never spend more than you can afford to. Gamble responsibly at all times.
Other than that, your best bet would be to count on the special symbols appearing next to the reels and granting you free spins and other bonuses. By doing this, you'll be able to rack up big rewards and clean the house, so to speak.
FAQ
Is there a demo of Spooktacular Spins?
Yes, most online casinos that feature it have a free version of this slot game. This means people can play Spooktacular Spins online slot for free as a demo version. It is a great way to see what the slot game offers before playing it for real money.
Can I win real money playing Spooktacular Spins?
Yes, if you're betting real money of your own, you'll be able to win real money playing Spooktacular Spins. The way to do this is to select the size of your wager and spin the reels. The rest is down to luck.
What's the RTP and volatility of Spooktacular Spins?
Nucleus Gaming tends to produce slots with medium volatility and RTP of 96% – Spooktacular Spins is no exception. 
Getting Spooked for Money
Whether you play the regular or mobile version of the game, chances are you'll have a delightful experience playing this slot. Some unique features can win players big prizes, and the game's theme is spooky in a charming way. Have fun playing Spooktacular Spins!