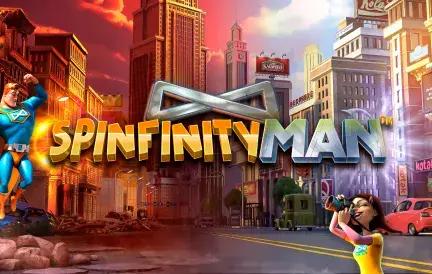 Step into a world of superpowers and high-octane action with Spinfinity Man, a slot machine that transcends the typical gaming experience. Exclusively available at Red Dog Casino, Spinfinity Man delivers a superheroic saga unlike any other.
From the very onset, players are greeted with the bustling metropolis backdrop where Spinfinity Man battles villains and seeks out mega wins. The game's visuals are not only sharp and modern but also packed with action-filled sequences. Each symbol, be it our titular hero or his archnemesis, is rendered with cinematic finesse, making every spin feel like a comic book panel come to life.
Distinctive features of Spinfinity Man include:
Dynamic Graphics: The slot showcases top-tier animations and design, seamlessly integrating the superhero theme.
Innovative Bonus Rounds: Spinfinity Man boasts a variety of unique bonus features, each centered around our hero's superpowers.
Adaptable Gameplay: Players can adjust settings to their preference, ensuring an optimal gaming experience regardless of their expertise level.
A potential point of critique might be the game's complexity. With so many features and storyline elements, some players might find it a bit overwhelming, especially if they are accustomed to more straightforward slots.
In summing up, Spinfinity Man redefines what one can expect from a slot machine. It's not just a game, but an adventure, with players joining the titular hero on his quests for justice and jackpot wins. For those eager to merge the thrill of superhero tales with the excitement of slot gaming, Red Dog Casino's Spinfinity Man is the title to beat. Strap on your capes, channel your inner superhero, and dive into this action-packed slot!