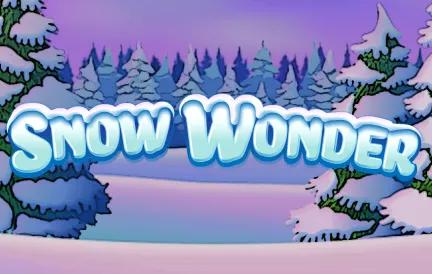 Head into a whimsical winter wonderland and let the enchanting Snow Wonder by Rival Gaming transport you to a world of icy magic. This delightful creation takes players on a frosty adventure, combining classic slot gameplay with seasonal charm. Whether you're a fan of traditional slots or simply seeking a refreshing change, Snow Wonder promises an immersive experience that will warm your heart despite its icy setting.
Snow Wonder's gameplay follows a familiar structure, making it accessible to both new and experienced players. With its 3x3 grid layout and five paylines, the game retains a sense of simplicity while offering ample opportunities for thrilling wins.
One of the standout features of Snow Wonder is its tranquil soundtrack, which perfectly complements the game's overall theme. The gentle melodies, accompanied by the occasional jingle of bells, enhance the immersive experience, transporting you deeper into the snowy realm. 
In this review, we will delve into the mechanics, features, and overall gameplay of Snow Wonder, exploring why this online slot game has garnered a loyal following among players seeking entertainment and a touch of winter magic. So, wrap up warm and join us as we unravel the enchantment of Snow Wonder at Red Dog Casino!
Design and Visuals
When you launch the game, you'll be captivated by Snow Wonder slots' visually stunning design. The backdrop features a serene snow-covered landscape, with delicate fir trees dusted with snow and a surprisingly charming snowman that is even animated even though he is just a background piece. The game's crisp graphics and vibrant colors bring the winter wonderland to life, immersing you in a delightful atmosphere that sets the stage for an unforgettable gaming experience.
Core Rules and Gameplay
Now, let's play Snow Wonder for real money! With 13 potential winning combinations to spin in, an avalanche of prizes will soon envelop you. The magnitude of the awards depends on how many coins you bet. Every spin allows for 1 to 3 coins; the payouts are proportional. However, if you wager three coins, a bonus of 250 coins is added to the top prize. 
Pinecones are one of the prize icons you'll be looking to spin in:
they pay 1 to 3 coins for just 1, or 3 to 9 coins for two;
you can win between 150 and 450 coins if you find three pine cones. 
There are three types of bars to locate: single, double, and triple. Each pays 5 to 15 coins, 10 to 30 coins, and 14 to 45 coins, respectively. You can also win 2 to 6 coins by aligning any variety of bars. Additionally, expect to discover a tricolor of lucky 7s, including red, green, and white ones. Red 7, green 7, and white 7s all pay 20 to 60 coins, 30 to 90 coins, and 75 to 225 coins, respectively. 
With coin values ranging from 0.01 to 10, you may place a minimum stake of just 0.01 coins and a maximum bet of 30 coins per spin, increasing your chances of winning any reward.
FAQ
Is there a way to play Snow Wonder online slot for free? 
Discover the free play or demo mode: log out from your Red Dog casino account and find the Snow Wonder slot on the catalog. Launch it and enjoy playing for free.
How can I find Snow Wonder on the Red Dog Casino Website? 
Snow Wonder slot machine is featured in the Red Dog Casino games selection slots category. You can get there by choosing the abovementioned category or simply typing the game's title into the search bar.
Do I need an app to play Snow Wonder slots on my mobile phone?  
Any player with a portable device with the most recent versions of their operating system and a web browser can play Snow Wonder at Red Dog Casino without needing an app, as the game is optimized incredibly well. You're lucky if you like using your phone as a gaming platform!
Conclusion 
Players enjoy many 3-reel classic slots created by Rival Gaming, each with a different theme. Snow Wonder will appeal to slot players who prefer a classic playing slot more aesthetically beautiful than its predecessors. Because it lacks wilds and bonus rounds, it can be enjoyed by people who want some simple and relaxing gameplay. If you like Snow Wonder, you might also try these titles by Rival: 
Crazy Camel Cash; 
Red, White, and Bleu; 
Heroes' Realm; 
Big Cash Win; 
Gold Rush.