Slots of Money Video Slot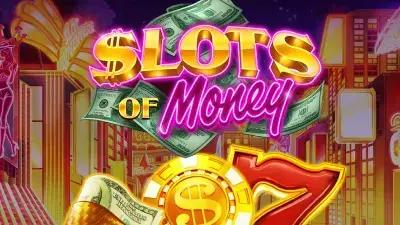 Dive headfirst into a glitzy world of flashing lights and chimes with Slots of Money, a shimmering gem in the collection at Red Dog Casino. This slot machine offers players a unique blend of traditional gameplay with modern twists, ensuring both nostalgia and novelty in every spin.
One glance at Slots of Money reveals its grandeur. Bright neon symbols contrast against a backdrop reminiscent of the famous Las Vegas Strip, drawing players into a vibrant, virtual casino realm.
Key features that make Slots of Money shine include:
Cluster Pays Mechanism: Unlike traditional paylines, clusters of symbols lead to wins.
Mini-Slot Bonus: This special feature activates mini-slots within the game for additional prizes.
Wheel of Fortune Spin: Earn spins on this iconic wheel for a chance at multipliers and grand payouts.
Coin Shower Feature: Experience a sudden downpour of coins, translating to instant rewards.
Beyond the visuals and features, the ambient sounds of Slots of Money immerse players in an environment akin to high-end casinos. The distant murmurs of crowds and occasional applause make it feel like you're not playing alone, enhancing the overall gaming experience.
In summary, Slots of Money is not just another game in the vast ocean of slot offerings at Red Dog Casino. It bridges the gap between classic and contemporary, appealing to players of all tastes and preferences. This slot machine promises hours of entertainment, coupled with the thrill of potential jackpots. So, if you're in the mood for a virtual trip to the casino capital of the world, look no further than Slots of Money. The reels await your touch, and with fortune on your side, the neon-lit city of rewards might just open its treasures for you.