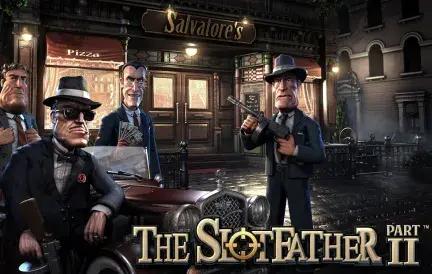 Immerse yourself in the world of mobsters, speakeasies, and clandestine deals with Slotfather 2. Red Dog Casino continues its tradition of hosting premier games with this slot machine, offering players a thrilling dive into the underground realm of organized crime, all the while promising the chance for illicit rewards.
Slotfather 2 sets the mood right from the start with its dimly lit, prohibition-era visuals. The symbols, ranging from briefcases full of cash to luxury cars and whiskey barrels, evoke an ambiance of secrecy and power. With every spin, players are brought deeper into the narrative of a crime syndicate, with the Slotfather himself overseeing the operations.
Accompanying the game's impeccable graphics is a moody jazz soundtrack, perfectly capturing the tension and drama associated with mobster tales. Each spin, win, or bonus round is accentuated by music cues that transport players to a time of fedoras, pinstripes, and Tommy guns.
Key Features of Slotfather 2:
Gangster Respins: Get two of the same gangster symbols for a free respin, increasing the chances of a full gangster bonus.
Big Boss Bonus: Secure this and receive an instant bonus credit, courtesy of the Slotfather himself.
Underboss Scatter: Gather these symbols and watch them turn into other characters, offering more win combinations.
Gangster Bonus Rounds: Choose from different missions, each promising its unique rewards and risks.
In conclusion, Slotfather 2 is a masterstroke in storytelling and slot design. Red Dog Casino once again showcases its commitment to quality and innovation with this slot machine. For those intrigued by the allure of the mobster world and the thrill of big wins, Slotfather 2 is an offer you can't refuse. Tighten your tie, make your deals, and spin the reels in this crime-infused adventure.