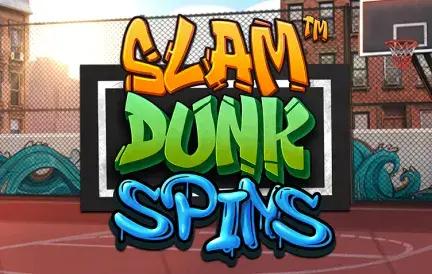 Get ready to hit the virtual courts in style with Slam Dunk Spins by Nucleus Gaming. This basketball-themed slot game takes the excitement of the sport and brings it to the reels, offering players a chance to score big wins while enjoying the action-packed theme.
Slam Dunk Spins at Red Dog Casino is a 5-reel, 3-row slot machine with 10 fixed pay lines, ensuring every spin is filled with potential winning combinations. Whether you're a casual player or a high roller, you can join the game with bets ranging from 0.1 to 200 euros per spin, making it accessible to many.
If you feel like you need some practice before leaving the bench, you can take your shots in the demo mode and play Slam Dunk Spins online slot for free. After the warmup, it would be wise to turn your attention to the classic setting and give playing Slam Dunk Spins for real money a chance, as you miss 100% of the shots you don't take!
While Slam Dunk Spins keeps its gameplay relatively straightforward with special symbols and Free Respins, the potential to win big is anything but ordinary. With a maximum win of up to 500 times your main bet, players can shoot for the stars in this thrilling slot game. So, lace up your sneakers, grab your ball, and get ready to experience the excitement of Slam Dunk Spins slots!
Quintessentially Urban
The game's design is a slam dunk in itself, featuring a contemporary style. The backdrop is an outdoor basketball court, bathed in the warm glow of the setting sun, with a net swaying in the breeze. The court is adorned with vibrant and eye-catching graffiti, further enhancing the urban vibe of the game. It's as if you've stepped into an inner-city playground, ready to show off your skills.
But it's not just the background that's visually appealing; the symbols on the reels are equally captivating. You'll find iconic basketball player gear, from high-top sneakers that glisten in the spotlight to energy drinks to keep you fueled for the game and even sports bags stuffed with equipment. Each symbol is intricately designed, capturing the essence of the sport down to the smallest details, making you feel like a true baller.
Colorful and dynamic street art elements infuse the game with energy and attitude, giving it an edgy feel that perfectly complements the urban basketball theme. The graffiti art adds a unique visual flair to every spin, ensuring that Slam Dunk Spins is not just a game but a vibrant experience that celebrates the spirit of the game and street culture.
Time for some Coaching
Knowing how to play the game always pays, so let's get down to business. 
Scatter Wins: In Slam Dunk Spins, scatter symbols can appear anywhere on the reels and reward you with up to 50 times your bet. These scatters add an extra layer of excitement to your gameplay. 
Expanding Wilds: Keep an eye out for expanding wild symbols, which can land on reels 2, 3, and 4. They cover the entire reel when they appear, increasing your chances of creating winning combinations. This feature adds an element of surprise and excitement to each spin. 
Free Respins Feature: Landing expanding wilds isn't just about enhancing your chances; it also triggers a special feature. The expanding wilds become sticky, remaining in place while the other reels spin again. This respin continues until you achieve a winning combination. Moreover, if you snag more expanding wilds during the respins, the feature can be extended, giving you even more opportunities to win big.
Slam Dunk Spins offers a dynamic gaming experience in terms of bonus features and mechanics, ensuring that players can enjoy the thrill of basketball and the excitement of potentially lucrative gameplay.
FAQ
Can I tweak the game UI?
The game's design and user interface are completely up-to-date, giving you access to all the quality-of-life elements you've come to expect from major developers nowadays.
Is Nucleus a reputable developer?
Nucleus Gaming is a studio known for high-quality content. The team concentrates on top-shelf 3D games that are optimized for mobile devices. Gold Yonder, Party Paradise, and Totem Tumble are just a few of the games available from the company.
Do I actually have to show up to the court to ball?
Every player can immerse themselves in street culture and play basketball on any device by using mobile devices. Because the game was created in HTML5, it is compatible with PCs and mobile devices. You can play it for real money or in demo mode on your phone or tablet.
Final Thoughts
Slam Dunk Spins by Nucleus Gaming seamlessly merges the thrill of basketball with the excitement of online slots. Its urban-inspired design, vibrant symbols, and engaging mechanics make it a slam dunk for both casual and serious players. With potential wins of up to 500 times your bet, it's a game worth trying to play for fun and some real cash.