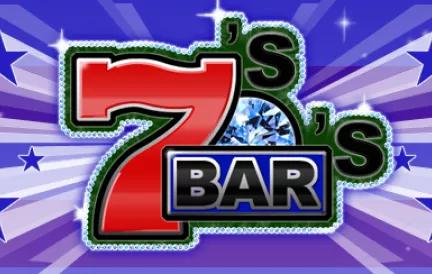 Sevens and Bars by Rival Gaming is a 3-reel, 1-line vintage slot machine with multipliers. A classic slot machine called Sevens and Bars has, of all things, sevens and bars, being heavily stylized and going for a retro look you would expect from a Vegas movie with slots symbols being: the Diamond, the Single Bar, the Double Bar, the Triple Bar, the Blue Seven, the White Seven, the Red Seven, and the Sevens and Bars. The total number of winning combinations for Sevens and Bars is 12.
If you don't mind using the standard $1 coin size, choose your coin size before starting to play the Seven and Bars slot machine. Starting with a $0.01 coin, other coin sizes include $0.05, $0.10, $0.25, $0.50, $1, $2, and $5. Choose from 1-3 coins after you've chosen your coin size. Using the "Bet Max" option, you may set the reels to spin automatically if you want to play all three. 
Theme and Design
The theme is extremely cliché for an online slot machine, but at the same time those cliches are there for a reason because when it comes to a casino and your pastime there, people naturally have a very particular image in their mind. With no flashy visuals or special effects to divert you from the objective—to collect as many coins as you can—Sevens and Bars at Red Dog casino is a pure and true gaming experience to its core. Any color combination of three 7s will cause a frenzy of animated activity, with sevens shooting out from the screen like stars to indicate that you are about to swim in cash if you are playing Sevens And bars for real money.
Gameplay 
The Sevens and Bars symbols, unsurprisingly, has the highest jackpot in Seven and Bars. With a maximum 3-coin wager, three of these symbols on the middle payline will get you 2500 coins. The Diamond, which is valued up to 600 coins, is the second-best emblem.
Your rewards will be doubled by 5X if you manage to land a Red Seven symbol on the first reel, a White Seven symbol on the second reel, and a Blue Seven symbol on the third reel in that particular order! Any other arrangement of the Red, White, and Blue 7s will triple your wins, which is still more than impressive.
FAQ
Where is Sevens and Bars slots available at the Red Dog?
You can find it by the slot games section or just by using the inbuilt search engine on the site. 
Can I play Sevens and Bars online slot for free at Red Dog Casino?
The game is available in a free practice mode accessible via the menu.
How well is the game optimized?
The game runs equally smoothly on desktop machines and mobile platforms.
Verdict
Sevens and Bars offers an incredible experience for any type of player, from a newbie to a veteran, with multiple options for comfortable personal gaming experience as well as an option to play freely just for fun!