Sensational Sixes Unified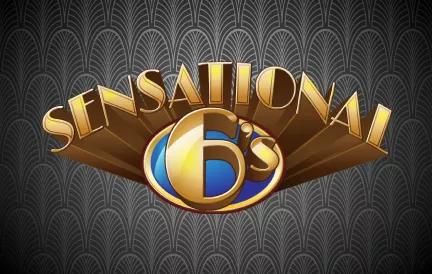 We have said this before and will say it again: there's nothing wrong with good old-fashioned traditional slots. The more dynamic and feature-rich games that producers like to release these days are preferred by many current players, who tend to ignore these games. However, the simple, basic gameplay of the vintage mechanical games—or contemporary online slots made to look like them—has all of its own appeal. In addition, updated versions of these classic games frequently include some worthy surprises.
Sensational Sixes by Rival Gaming is a prime example of this. This game is all about its vintage aesthetic, from the streamlined gameplay to the artwork and graphical presentation, which feels like it was created in a bygone era. Although a few small extras are in the mix, you can still play for fun and win large with this game. There are three of them in the form of multiplier wild symbols, which can turn any win into a little jackpot that players can take home.
Despite its classic slot design philosophy Sensational Sixes offers: 
autoplay option;
scatters;
wilds;
flexible betting system.
Visuals and Design
You're lucky if you enjoy the Art Deco design aesthetic from the Roaring Twenties since the Sensational Sixes slots exude that timeless aesthetic. Gilded reels are displayed on top of a background of grey and black patterns, and most of the on-screen text is written in that blocky font popular during the era. A few symbols briefly illuminate, and the music is upbeat and amiable, but don't anticipate any elaborate animations or eye-catching effects.
But this game is as contemporary as they come in many other respects. This mobile-optimized game's no download required design provides compatibility with as many operating systems as possible, allowing players to play it on any device they want. The maximum wager may not quite qualify as a high roller bet, but there are plenty of high-limit and low-limit options for the majority of gamblers. You may also choose your coin size from a variety of options. If you want to try out the machine without risking playing Sensational Sixes for real money, you can play the free demo slot version.
Nuts and Bolts of this One-Armed Bandit 
A single payline that spans the entire screen runs vertically across the three reels of the Sensational Sixes. However, unlike many games, no "premium" win becomes available by playing that third coin; you will simply be doubling or tripling your bet when you play extra coins, with all payouts increasing accordingly. Players have the option to bet up to three coins per spin. 
You'll need to hit three winning symbols across your win line to win prizes. Five basic icons appear on the reels: the classic bar, as well as the four-card game suits: clubs, diamonds, hearts, and spades. While players can win a small prize by mixing and matching these suits, the bigger rewards come from hitting three-of-a-kind combinations.  
Players can take advantage of one unique aspect of this game. Three multiplier wild symbols are somewhat different on each reel. The first has a 2x multiplier, the second has a 4x multiplier, and the third has a 6x multiplier. These can replace any other icon to complete a winning payline, and because their multipliers are cumulative, they can rapidly add up to significant payouts. 
In addition, if the line does not otherwise produce a win, these symbols can win prizes on their own. For instance, if you hit a 4x wild and nothing else, you'll still win four times your spin wager. Hitting one of these wilds on an otherwise lost line will still earn you a scatter pay equal to the multiplier amount. You can win the jackpot by simultaneously hitting all three multipliers on this machine, which will pay out 1,000 times your wager.
FAQ 
What unique aspects of Sensational Sixes can I anticipate at Red Dog Casino? 
The title has wild scatters and many modern quality-of-life features to keep you entertained and winning for hours.
Does the game feature a progressive jackpot? 
Sensational Sixes at Red Dog Casino is not a progressive jackpot slot.
Does the game run well on modern mobile devices? 
The core design ideas might be old-fashioned, but the technical execution is cutting-edge. The game runs smoothly on all modern devices, be it portable or desktop.
Our Thoughts 
Sensational Sixes at Red Dog Casino is worth your money if you enjoy conventional gameplay and old-school design. The game is so simple to grasp. That's not to say that this machine is dull, though, since the multipliers can result in some huge payouts, which is a terrific way to keep players interested at all times. This game is worth checking out and also offers a way to play Sensational Sixes online slot for free if you still need to make up your mind.